"Pumpkin Pickin Time" – Now Harvesting Hand Blown Glass Pumpkins
|
Comments Off

on "Pumpkin Pickin Time" – Now Harvesting Hand Blown Glass Pumpkins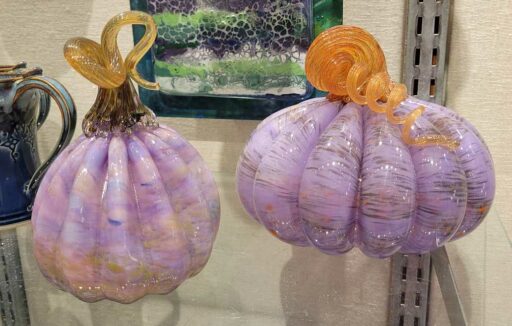 Hand Blown Glass Pumpkins By Terri Sigler
Traditional Glassblowing
It is always interesting to us, to learn how an artist gets started.
But of all the stories we have heard over the years, Terri Sigler's is one of the most unique: according to Terri she started her journey into traditional glassblowing in 2006, when her husband gifted her with a  traditional glassblowing class!
Naturally Terri thought he was crazy but hey since the class included a week-long stay at a really luxurious hotel (not to mention a non-refundable class fee), she went along with it.
Now all these years later, here at Mountain Made, we are proud to showcase Terri 2021 collection of blown glass pumpkins.
Click the photos below to enlarge >>
Terri talks about her art and life in a post from 2016, "Inside the Artist's Studio with Terri Sigler"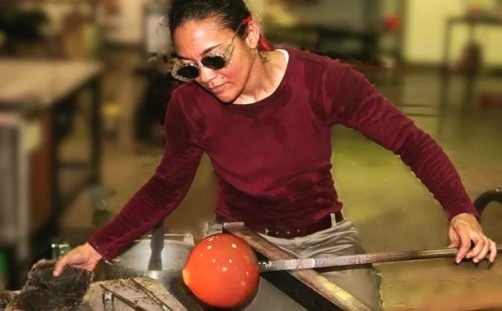 As a child, what did you want to do when you grew up?
As a child, I wanted to be a physician, a Mother Theresa-like person; I wanted to be a pianist, a ballerina and a fashion designer. Essentially, I wanted to heal the body or the soul.
When did you first realize you wanted to be an artist?
I've always been an artist. My Mom, throughout her professional career, was an artist explorer.
We sewed, painted ceramics, knitted, crocheted, baked and gardened, just to name a few. Furthermore, I come from five generations of seamstresses. Sewing and designing– thus creating, is in my blood.
How many pieces to you think you have you created?
About 3,000! There's a philosophy that you have to practice something 10,000 times in order to master it. I'm at roughly 7,000 units short of master-hood.
….
Interested in Terri's pumpkins? Then we invite you to come by the gallery and check out her artwork for yourself >> Directions to Mountain Made (inside the Grove Arcade)