Dodge the Crowds – Pre-shop for Arts & Crafts at Mountain Made
|
Comments Off

on Dodge the Crowds – Pre-shop for Arts & Crafts at Mountain Made
 Like everyone else, we're closely monitoring local and national reports on the evolving impact that COVID-19 has had on our country.
Experts are recommending that you work from home (if you can) or avoid big crowds. Our hearts go out to those who are suffering from this terrible, terrible illness.
Yet we all understand that too much isolation can lead to restlessness, decreased motivation, sadness or even depression. And while our store will remain open during our usual hours, you may want to explore pre-shopping with us.
Did you know that pre-shopping is a real thing?
Yes, it is the act of doing all your in-store browsing online first THEN doing a quick run to your favorite shop or store to collect your purchase.  Similar to the "store pick-up" services at the big box stores.
Also called "ROBO", this new "Research Online, Buy Offline" trend has always been a part of the Mountain Made experience.
Which is why we are offering you a chance to pre-shop with us for all the upcoming holidays like Easter, Mother's or Father's Day. And of course graduations or birthdays.
Click and explore our extensive archives of over 400 articles about our local mountain made arts and crafts, and the people that created them:
And don't forget our unique & free Personal Shopping Program that lets you to bypass the worries of crowds when browsing yet allows you the experience of discovering the wonderful local artwork and uncommon home decor items you have come expect from our Western North Carolina gallery.
With your online browsing pleasure in mind, over the coming weeks we will be showcasing a just a few of the works of our local artists.
Almost all of our artwork can be shipped anywhere within the Continental US or held for local pickup. Just let us know which you prefer!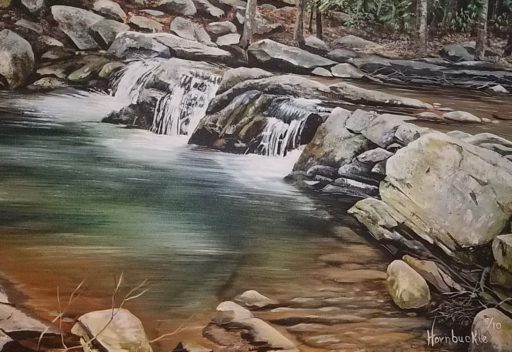 Now you might have heard of Jenean Hornbuckle before. She is Cherokee Painter who specializes in Western North Carolina Landscapes. Jenean creates some the most emotive landscapes, we have ever seen.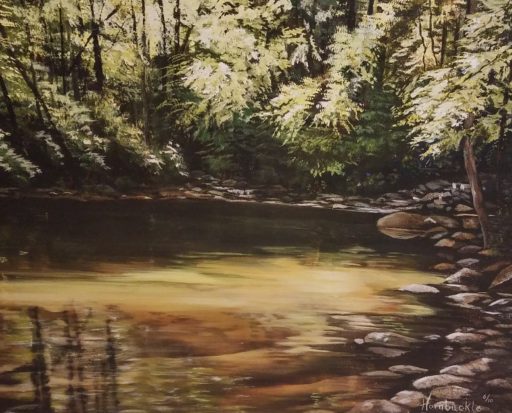 She believes that her extraordinary ability to capture the beauty of our mountains (and to see their hidden power) has been passed down over the years from her Cherokee ancestors.
She says that she has "a genetic memory (that) exists on a cellular level and is passed down from generation to generation," a connection honored by her family.
Jenean's mother was a citizen of the Cherokee Nation from Oklahoma, and her father was a member of Eastern Cherokee from the mountains of North Carolina.
Jenean was born on the Qualla Boundary near Cherokee NC. The Qualla Boundary is not a "reservation" but a territory held as a land trust for the Eastern Band of Cherokee Indians.
Jenean says, "I've lived my life in western North Carolina and there's no place I'd rather be than on a creek side or mountain top. I paint to entice the viewer to go out and find these places and to experience the land. To listen to the quiet. I heard a quote once that inspires my work: 'I can not leave here, the land knows me.' "
Her father worked as a forester, protecting and preserving the mountains, and Jenean's paintings also preserve the beauty of the mountains, in artistic form.
While the aesthetics of her paintings come from traditional Cherokee culture, she developed her technical skills in college classes where she worked to earn her fine arts degree.
…
Now if you any questions about Jenean and her works or you would like to purchase one of her prints from us, we invite you call us at 828-350-0307 or contact us by email => here.