WNC Chainsaw Artist Chris Markey Carves Uncommon Bear Sculptures
|
Comments Off

on WNC Chainsaw Artist Chris Markey Carves Uncommon Bear Sculptures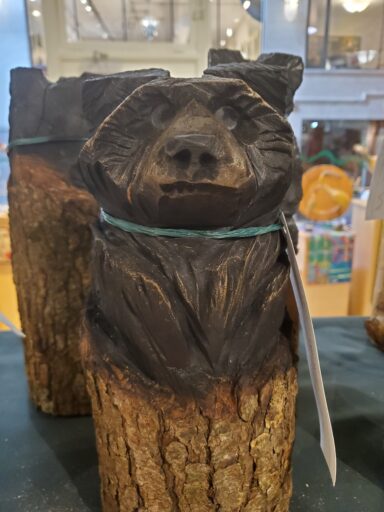 Chris Markey Jr., Master Woodcarver and Chainsaw Artist
"Art is 10% talent and 90% inspiration"
Here at Mountain Made, we strongly believe that new techniques can help recreate and reinvigorate such time honored traditions as wood carving.
So here in the Blue Ridge Mountains, you can find inspiration all around us. And this is why we feel Chris Markey Jr., Master Chainsaw Artist does such a wonderful job carving his original bear sculptures.
According to Chris Markey, wood speaks to him in a way that synthetic materials simply cannot. "It calls to me on a primal level, and it helps connect me to nature. That's why my saying at the shop is: 'We make art that reconnects people to their roots.'
What began as a simple hobby business has since grown into a fulltime operation. Dealing primarily in chainsaw carving, it's no surprise that this rustic and rugged, yet beautiful and tasteful artform calls to people of all sorts. Every tree is a treasure chest of unique grain patterns and rings.
Chris says, "I can think of no better way to honor it than to transform this once-living material into outdoors-inspired artwork. Markey & Son is a family owned and operated business, proud to serve Western North Carolina and surrounding areas by offering original chainsaw sculptures, as well as custom art and décor."
He goes on to explain that their heirloom quality carvings have been sold to collectors all around the country.
What is Chainsaw Carving?
Chainsaw carving is a rapidly growing art form that merges the modern technology of chainsaws with the ancient practice of woodcarving.
Origins: The earliest records of chainsaw artists date back to the 1950s. Notable pioneers include Ray Murphy, who in 1952 used his father's chainsaw to carve his name into wood, and Ken Kaiser, who in 1961 crafted 50 carvings for the "Trees of Mystery."
Evolution of the Art Form:
Chainsaw carving began in the 1950s, with artists like Ray Murphy and Ken Kaiser being among the pioneers. The art form gained significant traction in the 1980s, with events like the Lumberjack World Championships providing a platform for artists to showcase their skills.
Techniques and Tools:
Chainsaw carving requires a combination of traditional woodcarving techniques and the power of a chainsaw. The chainsaw allows for rapid removal of large sections of wood, while traditional tools can be used for finer details.
Special chainsaw blades and chains have been developed specifically for carving. These "guide bars" have small noses, enabling artists to create detailed carvings that would be challenging with standard equipment.
Modern Chainsaw Carving:
The art form is not just about speed; many chainsaw carvers produce intricate and detailed works of art that can rival traditional sculptures.
Such attention to detail can seen in the works of Chris Markey Jr….
Chris was raised in rural Michigan where his love of carving began at a very young age as he regularly passed the time whittling, axe carving, and leather carving. In time, Chris developed a passion for rustic and flat-plane carving that has inspired his style and methods to this day.
He was exposed to power carving his whole life, as his family's business offered wood-carved sign services. He continued to sculpt and carve with a variety of mediums and methods before discovering his passion for chainsaw art.
***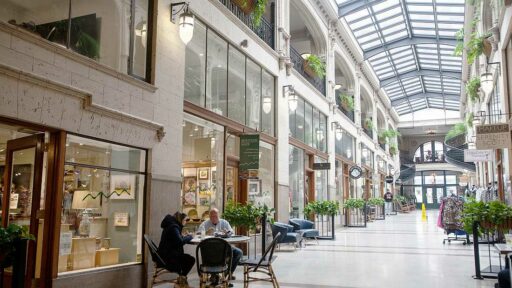 We invite you to come by and check out Chris's chainsaw carvings for yourself > Mountain Made Art Gallery in the Histroic Grove Arcade in downtown Asheville NC