Experience the Colorful World of Polymer Clay Jewelry with Lori Axelrod
|
Comments Off

on Experience the Colorful World of Polymer Clay Jewelry with Lori Axelrod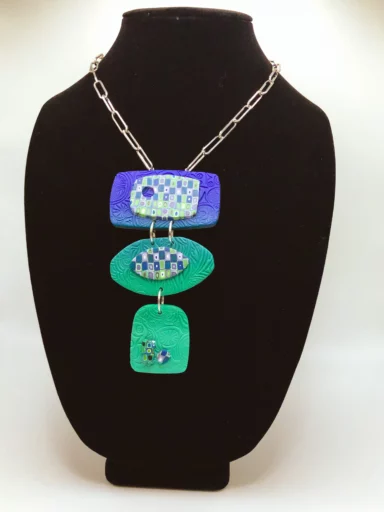 Handcrafted Polymer Clay Jewelry
by Lori Axelrod
We invite you to come by the Mountain Made gallery (in downtown Asheville) this Saturday, August 12, from 12 PM to 3 PM, for a live art demo!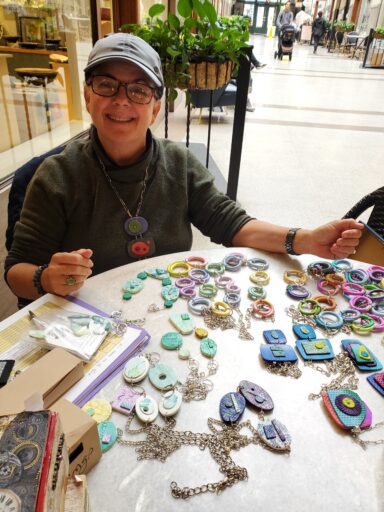 Imagine a realm where vibrant colors, intricate designs, and tactile experiences converge, transporting you to a universe of endless artistic possibilities. This is the world of Lori Axelrod, an Asheville-based artist who breathes life into her unique vision through fine art jewelry crafted from polymer clay.
Lori's artistry is a mesmerizing blend of polymer clay with bold colors where her creative spirit and voice come alive.
It's not just the vivid colors and captivating details that draw you in; it's the tactile interaction with her pieces's geometric patterns and the boundless expression her work offers that leaves gallery visitors fascinated.
Lori's inspiration stems from the heart of Western North Carolina, surrounded by breathtaking natural beauty. The tranquillity of the local mountains fuels her creativity, and this happiness is vividly reflected in her art.
Each jewelry piece she crafts is a wonderful blend of colors, designs, and textures. They aren't mere accessories; they're real statement pieces that promise to elevate any attire.
From necklaces to earrings, every item in Lori's collection is handcrafted with precision, resulting in lightweight yet delightful accessories.
Collections like her Black & White Jewelry, Infinity Necklaces, and Pendant Necklaces stand as a testament to her dedication. Each piece, with its delightful variations in shapes and colors, is as unique as its wearer.
Why Wear Polymer Clay Jewelry?
Lightweight: Perfect for all-day wear, especially for those with sensitive ears.
Durable: Made to last, they don't crack, chip, or break easily.
Unique: Each piece creates a bold statement with a minimalist design.
Handmade: Each piece carries a personal touch, adding to its uniqueness.
Strong: Designed without breaking or deforming, allowing for intricate designs.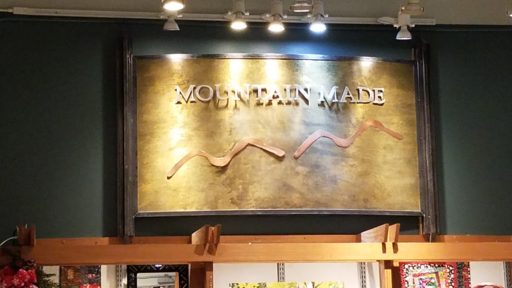 Join us at Mountain Made Gallery this Saturday, August 12, from 12 PM to 3 PM, for a live art demo where Lori will craft one of her colorful jewelry pieces in real-time.
Engage with her and find a piece that resonates with you, and let her wearable art become an integral part of your unique lifestyle. Don't miss out; we invite you to come by (directions to Mountain Made)  and find your statement piece today!