Voting Candles are as American as Apple Pie?
|
Comments Off

on Voting Candles are as American as Apple Pie?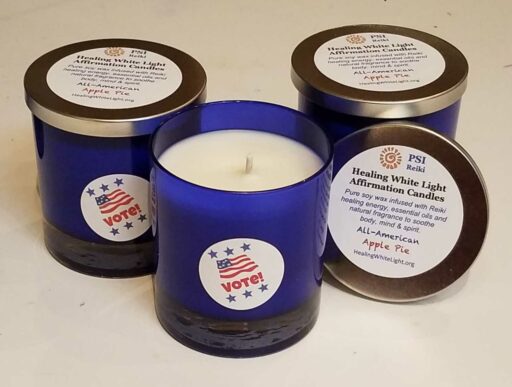 "You don't need no stinking 'I Voted' Badge…
We have Apple Pie Voting Candles!"
Okay, we admit you might never have heard about "voting" candles before. But lighting up one of these wonderful smelling Apple Pie spiced candles might just be the thing you need to settle your nerves or boost your spirits.
We invite you to come by Mountain Made gallery to get a voting candle as a special thank you for those seniors, Covid shut-ins, overseas military people, trapped out-of-towners or any other American voters who will be using absentee (mail-in ballots) this year!
"Healing White Light" brand candles are made from soy wax and are created in small handmade batches by Reiki Master Teacher Jonna Rae Bartges, right here in the Smoky Mountains of North Carolina.
Unlike commercially mass-produced candles made from Paraffin "wax" (processed from the sludge found at the bottom of crude oil barrels…eek!), Jonna Rae creates her candles from all natural soy wax. Soy wax comes from hydrogenated soybeans, the same source as the tofu we eat.
She then infuses her candles with her own "secret" formula of essential oils and natural scents to create unique one-of-kind fragrances such her "All American Apple Pie" the base of here 2020 Voting Candles.
Each candle is hand poured into a food-grade glass container with a lead-free cotton and paper wick to top it off.  Each candle comes with a healing Affirmation card.
We invite you to come by and sniff a Voting Candle for yourself or checkout any other scented candles by Jonna Rae > Directions to Mountain Made.