Unleashing Colorful Creativity – Art Jewelry by Lori Axelrod
|
Comments Off

on Unleashing Colorful Creativity – Art Jewelry by Lori Axelrod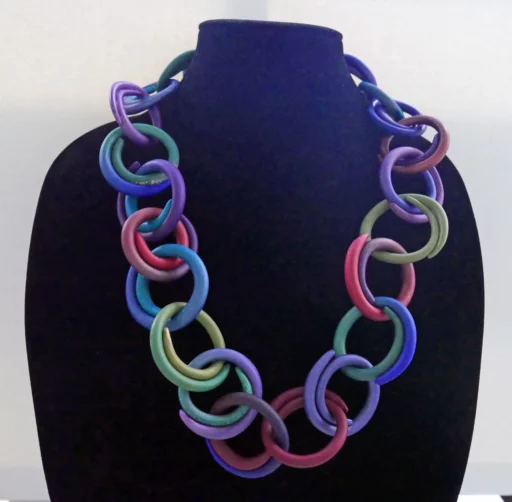 Lori Axelrod's Artistic Jewelry
Imagine a world bursting with vibrant colors, intricate designs, and a tactile experience that can transport you to a realm of endless possibilities. This is the world of Lori Axelrod, a local Asheville area artist who brings to life her unique vision through fine art jewelry made from polymer clay.
Dive into the entrancing universe of Lori's artistry, where her creative spirit and voice manifest through a fascinating blend of polymer clay and bold colors.
It's not just the saturation of intense colors and the captivating details that Lori brings out in polymer clay that magnetize her. The real allure lies in the wonderful tactile interaction with the clay and the boundless freedom offered by her work that has her fans so captivated.
Situated near the heart of Western North Carolina, Lori finds herself constantly inspired by the breathtaking natural beauty that surrounds her. She feels that the tranquility of our local mountains offers, fuels her creativity.
And the happiness it instills in her soul translates into her art. Lori's relationship with her environment is symbiotic, allowing her to blend the local essence into her artistic creations.
The true genius of Lori's work is showcased through her jewelry designs. Each piece is a symphony of colors, a carefully crafted ensemble of designs, and an interesting play on textures. These creations are not just accessories but statement pieces, promising an intriguing addition to any attire.
From necklaces to pendants to earrings, each piece in Lori's collection is handcrafted with meticulous attention to detail, resulting in lightweight, yet delightful fun accessories.
Her Black & White Jewelry Collection, Infinity Necklaces, and Pendant Necklaces are a testament to her dedication and love for her craft. As each necklace is handmade, expect a delightful variation in shapes and colors, making every piece as unique as the wearer.
Many of her necklaces are paired with matching earrings, presenting an opportunity for you to own a complete complementary set.
Let her art, steeped in the natural beauty of of WNC and brought to life with her wonderful vibrant colors and intriguing textures.
You are welcome to discover a piece (or two) and let her wearable art become a part of your own unique lifestyle.
We invite you to stop by Mountain Made, a downtown Asheville art gallery to see Lori's work for yourself. Engage with her work, and find your statement piece today.