Mother's Day Gifts at Mountain Made
|
Comments Off

on Mother's Day Gifts at Mountain Made

Mother's Day Gift Ideas
It doesn't have to be another War of the Roses!
Frankly, who doesn't enjoy breakfast in bed?  And flowers, especially roses, are still are the most traditional of all Mother's Day gifts.
But did you know that the traditional Mother's Day flower is the carnation? Here in the South, at least when we grew up, you wore carnations to church on Mother's Day.
Red carnations signify admiration and were wore if your mother is still alive. White carnations on the other hand were the traditional flower to give or wear in remembrance of a mother who is has passed way.
The history of Mother's Day started in all places in a small mining town in West Virginia. Ann Reeves Jarvis, who was social advocate in West Virginia in the late 1800's and mother of Anna Marie Jarvis, the founder of the Mother's Day holiday wrote,
"I hope and pray that someone, sometime, will found a memorial mothers day commemorating her for the matchless service she renders to humanity in every field of life. She is entitled to it!"
Well we think she is entitled to something special too! Yet flowers either carnations or roses can get a bit over time.
So we are proud the showcase some of our most popular arts and crafts for an alternative to the same old gift of flowers and breakfast in bed.
Great gifts for Mother's Day that don't include flowers
Jewelery
Ceramics
Zipper Flowers
Okay, we couldn't resist! Mother's Day would NOT be Mother's Day without some flowers.
For Moms Who are Readers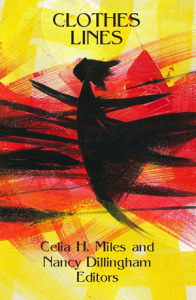 Two of Mountain Made's most popular authors, Celia H. Miles and Nancy Dillingham, are co-editors and contributors of a 241-page anthology entitled CLOTHES LINES.
This wonderful book contains the thoughts, feelings and life experiences from 75 western North Carolina women writers.
Everything from Birkenstock to bras, red shoes to polyester pink pants suits, prom dresses to funeral gowns, women as different as their garments reflect on their fascination with and feeling for the clothes they wear, remember, resist, and revere (or not).
Clothes Lines is also available on our estore.