Why Shop for American Made Crafts?
|
Comments Off

on Why Shop for American Made Crafts?
Is Buying Local a Good Idea Anymore?
This is the last weekend of events we have scheduled for American Craft Week 2013.  As you might have heard American Craft Week is a 10-day national event, October 4 – 13th. (And don't forget to catch Jim and Sondra's live demo – Saturday, Oct 12th!)
This event provides a wonderful opportunity to showcase and celebrate the marvels of modern American craft and the artisans those who create it.
Yet, we have noticed that some people are reluctant to invest in these wonderful arts and crafts due to some negative "Buy Local" stories published by some media pundits.
Naturally we think a lot of these stories are just plain untrue and we wanted to tell you our side and clear the air a bit.
…
Some myths about American Made crafts that
might be stopping you from buying local?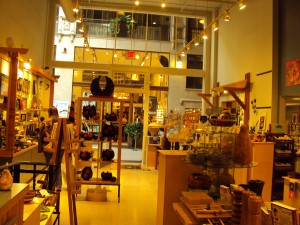 Myth # 1 – American Made Crafts Are Too Expensive.
We hear this one all the time. And yes, while some of our artwork is high-end, everything we carry in our gallery is original and manually handcrafted by a local artist.
Every final art piece is produced here in Western North Carolina and most of the works on display are very affordable and are made to last a lifetime.
Isn't it worth paying a little extra for a piece art that will be passed down through your family for generations to come?
Myth # 2 – American Made Crafts Are Too Weird Looking
We hear this one quietly whispered when someone new enters the gallery, "But I thought crafts was that funny-looking stuff?"
Too often people assume that all locally produced art follow the folk art styles (that funny looking stuff). Not true. Here at MOUNTAIN MADE you can browse a vast array great looking contemporary arts and crafts.
And we also have more traditional pieces from artists who are carrying on a multi-generational family tradition.
Myth # 3 – American Made Crafts Are Poor Quality
The first time we heard this one, frankly we were shocked. As an independent gallery owner and supporter of the WNC arts, we only showcase the best in contemporary mountain made crafts.
Here at Mountain Made, we work hard every day to only accept the best quality in the handcrafted artwork submitted to us. We are proud to say we carry some the work created by the most talented and skilled artisans in the region.
While it's true that some places might carry quickly produced "hillbilly crafts" for the "tourist trade", we have always been aware of the deeper, quality side of true mountain made crafts.
Crafts that follow the tradition of being durable and functional yet conceived by masters of their crafts then custom-designed and meticulously handcrafted.
We never carry anything we wouldn't be pleased to have in our own homes (and we have the artwork to prove it!)
Why Shopping for Local American Made Crafts is Good for You!
Below are just a few of the good reasons why you should consider shopping at local arts and craft gallery (like Mountain Made) this year.
Locally owned independent businesses provide better service – try us and see!
Locally produced crafts made great gifts – think of the gift they will be bragging about for years to come.
Locally produced crafts does supports our local economy – all our artists live here in WNC.
Well now that we have that out, we invite you come by the gallery and see for yourself, why shopping for American Made Crafts is a decision you won't forget > Mountain Made Gallery