Things To Do in Asheville – Live Glassblowing Demonstrations
|
Comments Off

on Things To Do in Asheville – Live Glassblowing Demonstrations
Glassblowing with Jason Probstein
UPDATE: Jason will be returning to Mountain Made on Nov 15th of 2013! Read the article below to see his schedule.
Glass – one of the most common yet mystifying substances using in the modern art world.
While glass is thought by many to have been invented during the Bronze Age, some 2500 years ago, no one is quite certain if it is a very slow moving liquid or a very malleable solid.
Still glass can withstand extreme heat and can stand up to the harsh weathering effects of rain, wind or sunlight.
Yet it remains one of mankind's most fragile and delicate of works of art. While there are many different forms of glass art demos.
Live glassblowing displays remains of one of the favorites for many people since the artisan must move quickly and yet skillfully while working near open flames and extremely hot molten elements.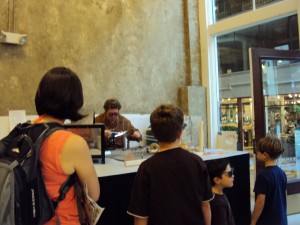 If you have ever wondered just how professional glass artists create all these seemly frail art forms then you must see the Live Artist Demonstrations inside the Historic Grove Arcade – hosted by The MOUNTAIN MADE art gallery with Jason Probstein – September 23 to October 10, 2010
Jason will be giving his FREE glass blowing exhibits every Friday & Saturday
Nov 15 – Dec 21, 2013
11:00AM – 4:00PM
This is a one of kind Asheville event that you shouldn't miss!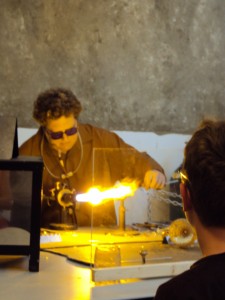 …
…
Jason Probstein is a professional lampworker and glass blowing master craftsman. He works with an hand torch to heat, mold and melt hard glass tubing and rods to shape his incredible glasses, goblets, essential oil bottles and aroma oil lamps.
As well as MOUNTAIN MADE, Jason has performed his glassblowing demonstrations at Walt Disney World. He is always open and willing to discuss his art and his glassblowing techniques with all interested visitors.
You can visit our art gallery at the Historic Grove Arcade in Downtown Asheville to view some of Jason's demostrations or use our personal shopping service to order his art online at https://mtnmade.com/blog/personal-shopper-2/