Origami Paper Cranes by Jean Adams
|
Comments Off

on Origami Paper Cranes by Jean Adams
We invite you (along with your friends and family) to drop by the Mountain Made gallery, Saturday, from 11am to 4pm to watch this wonderful artist at work.
Jean makes it all look so easy but after a lesson or two you'll be able to create one of your own colorful peace cranes.
….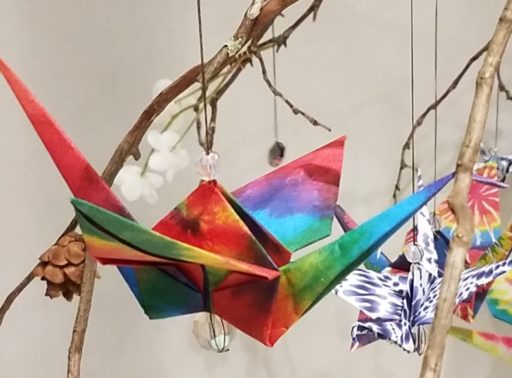 Did you know that Origami is the ancient Japanese art of paper folding.
According to some sources, "The orizuru, or paper crane, is a design that is considered to be the most classic of all Japanese origami."
This is because an ancient Japanese legend promises that anyone who folds a thousand origami cranes will be granted a wish from heaven.
In Japan the crane is considered to be one of several a mystical entities and cranes were believed to live for a thousand years.
That is why the tradition of making a 1000 cranes is thought to bring good luck and peace…one paper crane for each year!
Jean Adam is a self-taught Origami crane artist and who has spent many a rainy day, gently perfecting this seemly simple craft.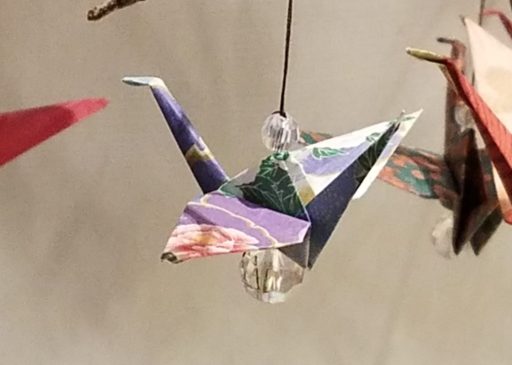 Jean says,
"I work with natural objects, whether using river rocks, gemstones and crystals for "God's Good Earth" business card holders, or folding origami cranes to combine with mountain laurel branches for mobiles….
Creativity began when we lived for 25 years without electricity or running water in a little cabin my husband built on a mountain top in Spring Creek.
I started out creating "Twiggy Bits" [desktop sculptures and card holders] with natural things I found while walking in the woods; I also folded origami on rainy days.
Now that I'm back on the grid in Asheville, I have space to expand my work. I am honored that people like to take home the things I love to make."