Need a Cat or Dog for Your New Home Office? Mixed Media Sculpture
|
Comments Off

on Need a Cat or Dog for Your New Home Office? Mixed Media Sculpture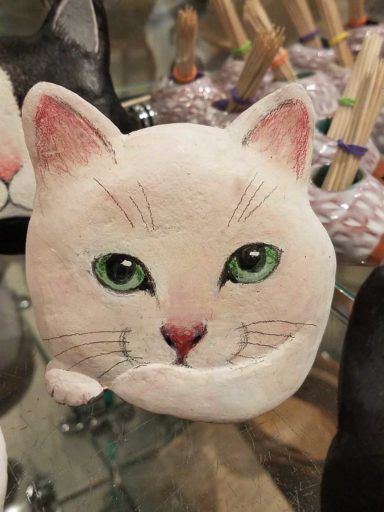 Mixed Media Sculpture – Clay & Painted Rocks Cats, Dogs
Did you know that surveys have shown that remote employees are doing better than expected from while working from home?
Increased Happiness,
Reduced Stress Levels,
AND Increased Productivity?
Yes, it seems folks working from their "back forty" (the kitchen table, basement, attic or spare bedroom) has some benefits …
No more wasting time while checking out the break room frig.
No more negative gossiping over the water cooler.
No more boss looking over your shoulder.
Yet home workers are experiencing increased loneliness…except for ones with pets! Yes, pet owners who have a lovable cat or dog do suffer less work-time loneliness.
Which is great but by now you might be wondering what all this has to do with art?
Well… some folks are living where they just can't have a pet as an office companion. So this is where Liz Alden mixed media sculptures can help.
Each of Liz'z dogs and cats are hand molded from locally sourced red clay then layered onto a smooth rock as a base. After drying each critter's facial features are drawn and then hand painted. Each animal creation is roughly about the size of an woman's fist…Liz has to carry the rocks home you know.
Liz has been doing her tabletop "rock pets" for over 40 years now and she figured she has done over 1,000 or more during that time.
When asked how she got started she said, "I saw someone doing it at a craft show. But they were only making raccoons. I figured I could do it too…but I decided to do cats instead. Who cares about raccoons?"
She went on to say, "Dogs are way harder to do since they have such distinct breeds. But cats are more fun because it's not the breed but the personality of each one that people like the most."
Liz's cat and dog critters make great gifts for those workers who want a furry office mate but can't have one!
And if you want to slip one of your stone pets into your pocket and take them for a walk…we won't tell anybody! Think you never have to worry that they will run away.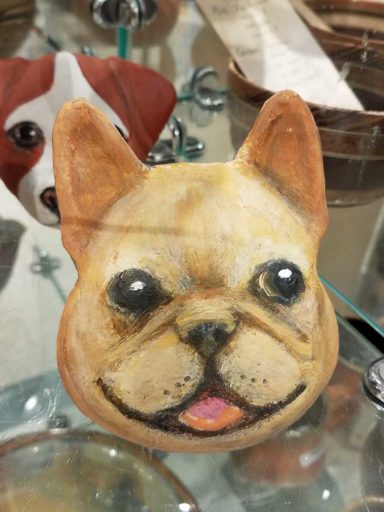 Each rock pet is $22.00. Shipping and handling will only be $5.00
Since each pet creation is a truly unique piece, we really can't put them on our online store but as always, we invite you to use our FREE personal shopping service below:
HOW PERSONAL SHOPPING WORKS…
Email us using the contact form at the bottom of this section.
Tell us which piece you are looking to purchase.
If needed, we can share more photographs and descriptions with you via email or text message.
Once you decide on what you want, we will get your credit card info for the purchase, then we will package it and ship it out directly to your front door.
There, you're done!
….
Mountain Made's COVID-19 Response