Pie Recipes that Will Make His (Father's) Day the Greatest
|
Comments Off

on Pie Recipes that Will Make His (Father's) Day the Greatest
Bring Him a Homemade Pie for Father's Day!
In our humble opinion few things can beat a great slice of pie for Father's Day. But most folks believe that pie baking is difficult. That's not true if you follow the simple directions in the "Lost Art of Pie Making Made Easy" by Barbara Swell.
In this wonderful paperback book, Barbara Swell shows you how to make a darn good pie as quick and easy as her title says.
"The Lost Art Of Pie Making" might be small (just 72 pages) but this witty and fun cookbook is packed full of great recipes.
It's dedicated to passing along the best pie-making wisdom from all the experienced pie makers Barbara has known to a new generation of bakers.
If that special Dad in your life has an appreciation of made-from-scratch pie, then he'll LOVE recipes like these:
Apple Raspberry,
Lemon Chess,
Dutch Oven Apple Cherry,
Miracle Cobbler,
Fresh Raspberry,
Fresh Rhubarb,
Green Apple July Berry,
Sour Cherry Amaretto,
Apple/Pear Mince,
Classic Lemon Meringue,
Louisiana Peanut,
As well as other baked treats such as quick flip pies, dumplings and crisps!
….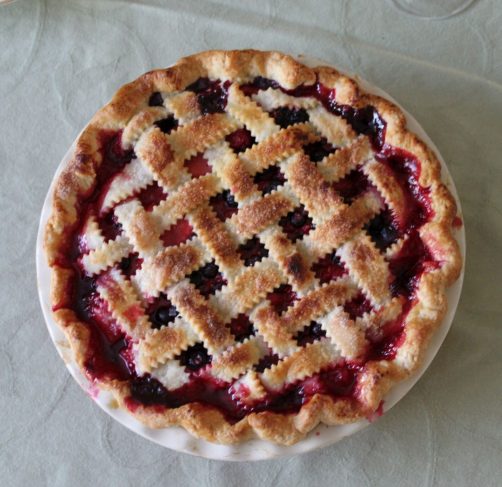 Plus Barbara shares with you, all her insider secrets for tender, flaky pie crusts and has crust recipes like Aunt Jenny's Crust as well as her own: Barb's Butter Crust.
Some of these recipes date from 1831 as well as from 19th century handwritten cooking journals – passed down from mothers to daughters. Barbara includes old-time pie lore, pie insults (always good to know), explains why men LOVE pie, pie contest tips, vintage photos, historic recipes, and more.
You'll feel like you're in Barb's kitchen, where she teaches how to make one of these great desserts from scratch.
In fact we invite you to check one of her pie recipes right now…
Old South Chocolate Chess Pie
Also called a "sugar pie", this simple rich dessert is what it is. Sort of a chocolate brownie topped custard with a little crunch of cornmeal. Underbake it a little if you like gooey brownies … we call intentionally underbaked pastries "sad" here in the southern Appalachian mountains. We also like our chocolate pound cakes sad!
6 Tbs. unsalted butter 3 Tbs. milk
3 oz. bittersweet chocolate 1 tsp. vanilla
1 cup sugar 2 eggs, beaten
¼ tsp. salt
1 Tbs. cornmeal
1 Tbs. flour (or all cornmeal)
Preheat oven to 400º Melt butter with chocolate and cool. Combine with remaining ingredients. Stir well, and pour into an unbaked 9-inch flaky butter crust. Bake on bottom third of a 400º oven for 10 minutes then turn heat to 350º. Bake another 20 minutes until the chocolate innards puff up but still wiggle a little.
For Lemon Chess pie: Add juice and zest of a lemon, omit chocolate Os-Good: Omit chocolate and add ½ cup each pecans and raisins
….
It's not too late to get of a copy "Lost Art of Pie Making…Made Easy" today.
We invite you come by Mountain Made to pick up your copy OR if you prefer we can slip a copy into the mail for you – $5.95 + $3.00 Shipping/Handling.  Just call us at 828-350-0307 (Monday – Saturday, 10AM until 4PM).  Order today so you will get your copy in time for Dad's Day.
For other great Father's Day gift ideas, we invite you to check out our online shop >> Mountain Made Handcrafted Arts & Crafts