Hand Forged Metal Roasters & Meat Flippers
|
Comments Off

on Hand Forged Metal Roasters & Meat Flippers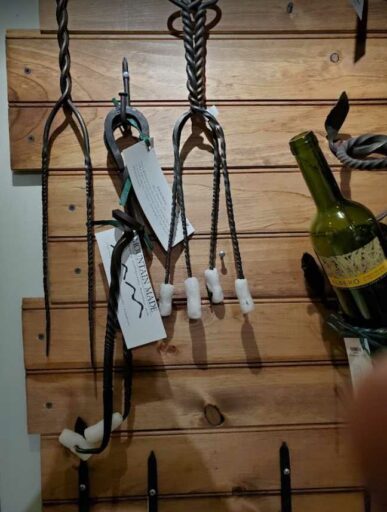 Handmade Metal Roasters and Meat Flippers
Grilling Season is Almost Over!
The Labor Day Weekend (September 4th, 2023), is usually the last time we ALL can get together outside and cook out friends and family.
But with all the crazy airline travel and higher than normal temps, many of us are considering doing a just a short road trip then back to the house this August.
Staying at home during the Dog Days of Summer, you and your loved ones beat the heat (and the stress of long distance travel) by hanging out in your own backyard.
Grilling at home is a great alternative to long complicated travel plans!
Mountain Made can help you with that…
We have a wonderful line of hand-forged BBQ and grilling tools from local blacksmith Edwin Knies.
Hand Forged Roaster Sticks
[Click each image to enlarge]
These are the perfect tools for roasting meats  as well as marshmallows or making S'mores. (see recipe below!)
These roaster feature two twisted metal forks strong enough to handle heavier items such as bratwursts and hot dogs.
Each roaster is hand forged right here in Western North Carolina using traditional blacksmithing tools and techniques.
They are finished with a blend of vegetable oil and other food-safe coatings, leaving a beautiful and durable "blacken" finish that will protect each tool from moisture.
Similar to finish of a seasoned cast-iron pan, they are easy to clean and will last a lifetime if properly maintained.
Hand Forged Meat Flipper or Steak Turner
[Click each image to enlarge]
These hand forged flippers or turners are a great tool for anyone who loves to grill, bbg or smoke meats.
They are styled in a traditional "Pigtail" hook design which makes it perfect for hooking and with a flick of your wrist, easily flip steaks.
You can also use it for turning over chops, ribs, chicken and handling meats – safely in a smoker.
There is twisted circular handle at the top that provides a nice grip with plenty of control.
These make a fun gift for those "gourmet" grillers in your life.
…
Fun Variation on S'mores for TWO!
Ingredients
1 (1.55 oz) milk chocolate candy bar
4 chocolate chip cookies
2 regular marshmallows
Directions
Place half the candy bar on each of two cookies and set aside.
Gentle push the marshmallows on roaster.
Roast above hot coals until marshmallows are golden brown.
Carefully remove from roaster and place one marshmallow on each candy bar half. They will be hot!
Top with remaining two or your favorite cookies.
ENJOY!
…
We invite you to come by Mountain Made and check out Edwin's work for yourself: Directions to Mountain Made