The Magic of Alcohol Ink Paintings by Joy Dorr
|
Comments Off

on The Magic of Alcohol Ink Paintings by Joy Dorr
Live Art Demo: Saturday, July 15, 2023 – 12 til 3PM
We invite you to enjoy an wonderful afternoon discovering the magic landscapes in alcohol inks of Joy Dorr. Come watch the way Joy uses even the tiniest drops of ink and makes them flow across the page to create fun, and vibrant paintings.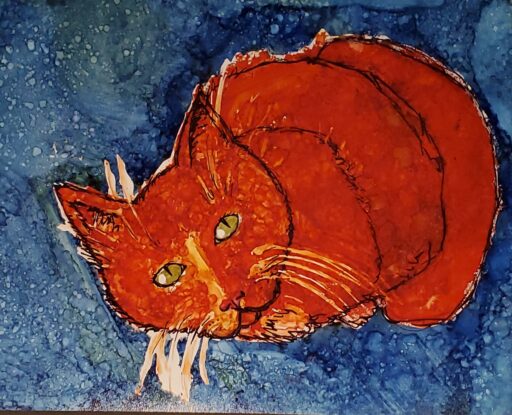 Joy Dorr's Alcohol Ink Paintings & Landscapes
Step into the vibrant, mesmerising world of Alcohol Ink paintings, where Asheville's very own Joy Dorr reigns supreme at the Mountain Made gallery.
Her abstract landscapes and animal portraits are more than just paintings; they are a unique perspective on the world, a visual symphony of colors and textures. Each piece is a hidden treasure, an invitation to embark on a journey of discovery and delight.
Joy's work is a living testament to her deeply held belief that surrounding oneself with uplifting images can improve mood and foster a positive attitude.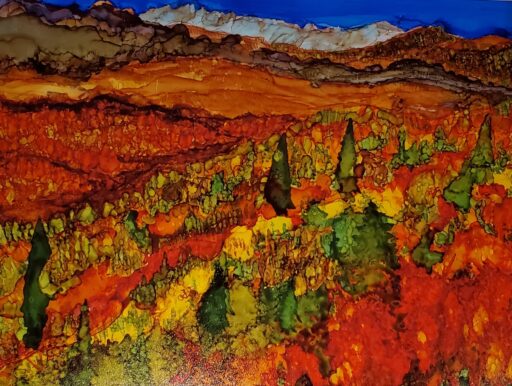 What exactly is Alcohol Ink Art?
Alcohol Ink is a highly pigmented, fast-drying medium, most
often seen as backgrounds and edging in various craft projects and in stamping.
Yet, when cradled in the hands of a master artist like Joy, it goes beyond its crafting roots, turns into a bold and powerful art form that commands attention and admiration.
…
Joy's talent and unique approach to Alcohol Ink Art have not gone unnoticed. Four of her paintings have found a permanent home at Mission Hospital's North Tower.
These pieces contribute to the healing environment, providing patients with a peaceful distraction and a small measure of hope during their recovery.
This display is a testament to the power of art in improving mental health and increasing overall comfort, and a shining example of the hospital's commitment to supporting the local art community.
About Joy Dorr

Joy says her paintings are a celebration of her surroundings in Asheville, North Carolina. She captures the colors and textures of the mountains in her work, each piece a love letter to the inspiring views that surround her.
[Click on a photo below for a closer view!]
Alcohol Ink Art is not for the faint-hearted. It demands bold strokes and flowing waves, a dance of colors that is as unpredictable as it is beautiful.
Joy describes the process as both languid and forceful, a delicate balance of guiding the ink where it needs to go while also allowing it the freedom to find its own path.
Now is your chance to experience a live demonstration of Joy Dorr's paintings for yourself. If you find yourself in downtown Asheville, we invite you to see her work in person. Come Immerse yourself in the vibrant landscapes, let your eyes wander over the bold strokes and flowing waves, and lose yourself in the beauty of it all. Directions to Mountain Made, a downtown Asheville art gallery.