Unleash Your Inner Artist with Sharpie Tie-Dye Hats –
Another "No Talent Required" Public Art Event
| Comments Off on Unleash Your Inner Artist with Sharpie Tie-Dye Hats –
Another "No Talent Required" Public Art Event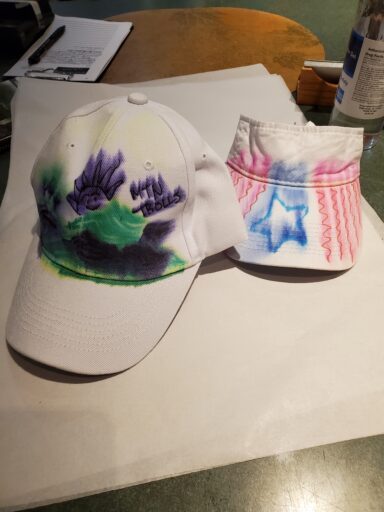 Brighten Your Summer: Come Make a Mountain Tie-Dye Hat using Ink Markers
Are you looking for a fun and creative way to sit down in the cool and entertain the kiddies for bit?
Then look no further!
We invite you to come by and take a break inside Mountain Made Art Gallery this Saturday from 12-3 PM for another of our fabulous "No Talent Required" Public Art Projects!
Here at Mountain Made Gallery, a "No Talent Required" event is a type of public art event that encourages everyone (even YOU), to participate in creating art, regardless of your artistic abilities or experience.
The main focus of our events is showing the public the the process of creating art, expressing their feelings, and just having fun.
Ink Marker Tie-Dye
Did you know that the art of Sharpie (TM) or ink marker tie-dying on hats is a trend that's taking the fashion world by storm?
Okay, maybe you won't this charming craft hitting the runways yet, but Sharpie (TM) tie-dying is a simple way to transform a plain hat into a vibrant masterpiece.
The process involves using Sharpie markers and rubbing alcohol to create unique, tie-dye-like patterns.
The best part? Anyone can do!
How It Works
First come by Mountain Made Gallery, suite #123 inside the Grove Arcade, located in downtown Asheville, NC.
To start, we provide you with a plain, white hat, along with ink markers in various colors, rubbing alcohol, and an eyedropper or spray bottle if prefer.
At our demo table, you can grab a hat then start sketching out your designs with markers.
Remember this a "No Talent Required" event, which means whatever you want to draw is fine with us … well almost anything. Remember you're going to be the person wearing that hat in public!
Once you're satisfied with your design, you start dripping rubbing alcohol onto it using the eyedropper. The alcohol will cause the ink to spread, creating a beautiful tie-dye effect!
There are a lot of benefits of using bright colored markers. Not only will they make your hat stand out, but they can you feel happier and more positive (what everyone needs this summer).
Bright colors can also stimulate your brain, making you feel more alert and energized! Don't be afraid to experiment with different colors and patterns.
Finally, after you are done, please take a quick snapshot of you in hat (in front of Mountain Made) and share your "hat art" with your friends and family on social media.
Ready to give it a try? Then come by Mountain Made from Noon to 3PM, Saturday, July 29, 2023