Asheville Oil Painter – Tebbe Davis
|
Comments Off

on Asheville Oil Painter – Tebbe Davis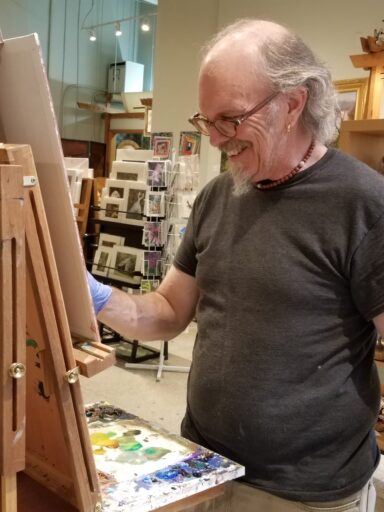 Welcome to the Whimsical World of Fine Art Painting by Tebbe Davis
"Every child is an artist.
The problem is how to remain
an artist once we grow up.
~Pablo Picasso
…
In this week's post, Mountain Made gallery is happy to share with you a short video showcasing some the unique paintings and the artistic viewpoint of one of Asheville's more eclectic artists, Tebbe Davis.
Asheville oil painter Tebbe Davis considers himself to be a modern American anomaly. He says he is a product of the suburban middle class and yet is also a complete aberration of the same.
Like the quote above Tebbe has kept and developed his childhood love of color and art well into his adult life.
Tebbe says, "My background as a Photographer and Poet give me a perspective other than the literal; creativity frees us from the bounds of comfort and allow us to delve into personal and intimate understanding of the world around us."
"We have all been placed in this life to explore and discover our Purpose; our voice, a vision and meaning to life. It's as if the purpose of life is to discover the purpose of life. Its just that easy. The path to the end, which is NOW! (so far) is one of endless folly and experiment."
"We are all Artists! You should want to place your signature on every day and then go get it framed. I would like to think that I pay attention with an 'awake' awareness and unique perspective that gives me the ability to tell stories with my Artwork."