5 Things You Didn't Know You Could Do with a Hand Crank Coffee Grinder
|
Comments Off

on 5 Things You Didn't Know You Could Do with a Hand Crank Coffee Grinder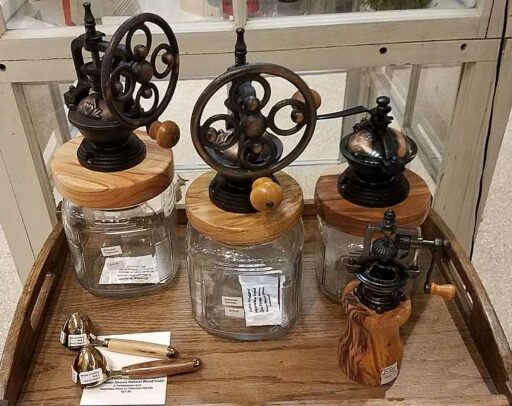 Hand-Turned Wood Coffee (Mill) Grinders by Bill Wanezek
While we all understand how convenient it is to buy pre-ground coffee, hand blasting your way through your favorite roasted beans – just before brewing – guarantees you the boldest, brightest morning cup you have ever tasted.
Which is why we are so glad that local woodworker Bill Wanezek has brought in several of his handcrafted coffee mills or grinders – depending .
These wonderful, one-of-a-kind grinders make great gifts for the coffee lovers in your family.
….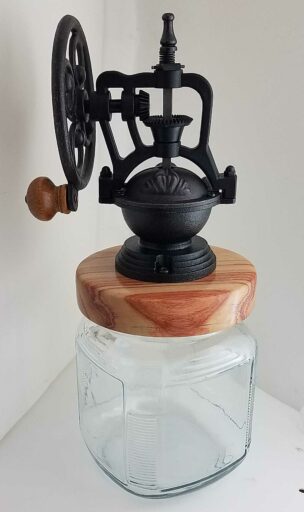 Bill has hand turned the tops and crank knobs using exotic woods like:
Tulip – from the tulip tree, a tree native to the Eastern side of North America
Ishpingo – from the Ocotea quixos, a tree native to the Ecuadorian Amazon
Black Limba  – Limba trees grows in the savannah and rain forests all over west Africa
Canary  – a tree native found from Panama to Ecuador and southern Brazil
We have coffee grinders in two styles:
Vintage Style Top Crank Grinder with an Antique Copper finish OR a Vintage Style Side Crank Grinder with a Cast Bronzed finish.
Both have a high quality ceramic grinding mechanism for years of use as well as a finial (metal thingy-bob on top) that adjusts for the ultimate grind, anywhere from a coarse to a fine grind.
….
5 Things You Didn't Know You Could Do with a Hand Crank Coffee Mill
If you're only thinking of grinding coffee beans you're missing out. According to various around the the Web you can easily use one of Bill coffee mills for:
Corn Chips for Toppings
Yes, like the kind you eat with salsa. Ground-up tortilla chips are a great crunchy addition to black bean soups and chili—just sprinkle the bowls with tortilla "gold dust" right before serving.
Homemade chili pepper flakes
If you like having hot pepper flakes on pizza and pasta, you'll love having fresh hot pepper flakes from your mill.
Homemade Spice Blends
Pack your coffee grinder with a mix of red pepper, dehydrated onion, and garlic flakes. Grind some of that blend on barbecue ribs.
Dried mushrooms
Slip some dried shiitake in your coffee mill and grind them into a soup base or over a turkey meatloaf.
Freeze-dried strawberries
Say hello to the greatest ice cream topping ever. Break the berries into smaller pieces before putting in your mill, then grind them into a delicious, red dust. But make sure you've cleaned out the mill — fruit in your desserts are great but not always the effect you're after with your morning joe.
Interested?
If so then we invite you come by the gallery and try out one of Bill's wonderful hand coffee grinders for yourself >> Directions to Mountain Made – a downtown Asheville art gallery