Unique Playing Cards You Would Will Want to Keep Rather than Play With
|
Comments Off

on Unique Playing Cards You Would Will Want to Keep Rather than Play With
New! Great Cosmic Happy Ass Card Deck
Unique Playing Cards by Diane English
According to Wikipedia playing cards gave been around for over 1100 years now. They have changed considerably since then. Different variations of decks have been created, yet what we recognize as a "regular deck of cards" hasn't changed much for a while.
But the unique playing cards created by local artist and humorist, Diane English are not your momma's ordinary deck of bridge cards.
Asheville artist Diane English is a self-taught graphic artist and illustrator who, at midlife, threw caution to the wind to follow her dream of combining art with her spiritual path. And so began her Great Cosmic Happy Ass Card Company!
Card Night Will Never Be the Same Again
Be the first one on card night to introduce a new, and totally hysterical way to play all your favorite card games from Blackjack to Poker; Pinochle to Crazy Eights; from Gin Rummy to Hearts.
Each specialty card deck has 52 different and original designs based on Diane's bestselling Great Cosmic Happy Ass Card illustrations. These playing cards or laugh-out-loud funny, inspiring and definitely outrageous.
An entirely new spin of playing cards worth talking about and sharing.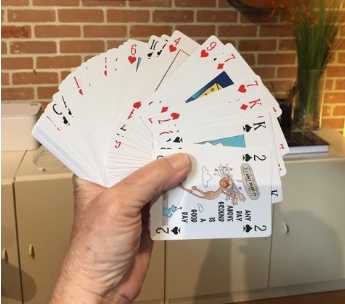 Mountain Made will be hosting a Great Cosmic Happy Ass Playing Card 'Game' here at the gallery on Saturday, April 1, 2017 from 11AM-5PM.  
We invite you to come by our downtown Asheville NC gallery (get directions) and play a hand or two of Blackjack, Solitaire, Hearts, Crazy Eights, Bluff, Poker or Bridge.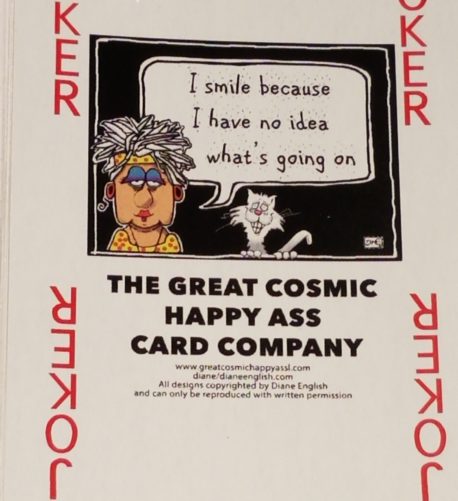 Whether you're playing master level Bridge or simply enjoying a casual game of Crazy eights with the kids, you should to try some of the classic card games below with a deck or two of Diane's Great Cosmic Happy Ass Playing Cards.
Blackjack, also known as twenty-one, or Slapjack is the most widely played card games in the world.
Solitaire or Patience, as it is known in Canada, is a genre of card games that can be played by a single player.
Hearts is an "evasion-type" trick-taking playing card game for four players, although variations can accommodate 3–6 players. The game is also known as Black Lady, or just plain The Dirty.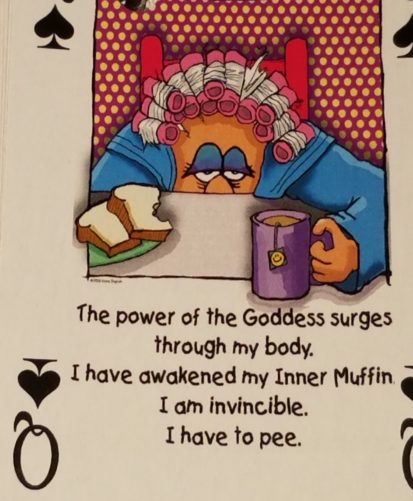 Crazy Eights is another game that gets the whole family involved and keeps everyone on their toes.
Bluff or Cheat is a card game where the players aim to get rid of all of their cards. Normally played with at least three players, it is often classed as a fun-filled party game, and is a game of deceit and sly tricks.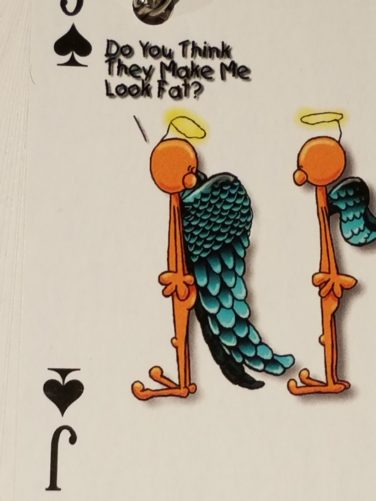 Poker is a card games involving betting and individual play, whereby the winner is determined by the ranks and combinations of players' cards, some of which remain hidden such as in Texas hold 'em.
Bridge a classic game of strategy featuring two teams of two and countless bids. Countless newspapers have daily Bridge columns, and there are more books about Bridge than any other game, except Chess.
Famous bridge players have include business moguls like Bill Gate and Warren Buffett as well as actor Omar Sharif, who enjoyed a phenomenal career as a master bridge player.