Things to Do in Downtown Asheville – Walk the Urban Trail to Mountain Made
|
Comments Off

on Things to Do in Downtown Asheville – Walk the Urban Trail to Mountain Made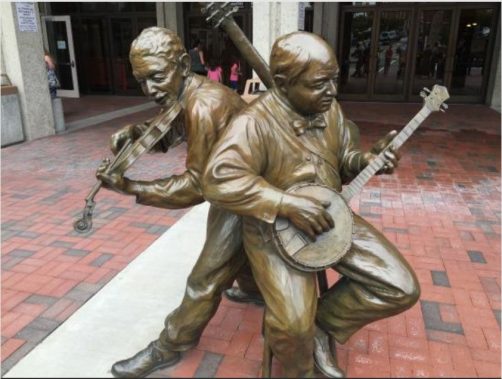 We invite you to embark on an adventure along Asheville's Urban Trail and discover the city's art and history while taking a casual 1.7-mile stroll through downtown.
This self-guided walking tour boasts 30 public sculptures that act as landmarks, leading you through the frequently offbeat and artistic past of the city and introduces you to its larger-than-life historical figures. The Urban Trail was initiated by the City of Asheville to showcase public art as part of its ongoing program to enhance the city's quality.
Each of the 30 stops along the trail offers a unique sculpture, sharing a piece of Asheville's rich history and past. Whether you're a history buff, architecture enthusiast, or simply an admirer of art, this tour is ideal for both locals and tourists alike.
As you follow the trail, you will come across five pink granite markers in the sidewalk, representing distinct time periods in Asheville's history.
The feather symbolizes the Gilded Age, the horseshoe represents the Frontier Period, an angel for the Times of Thomas Wolfe, the courthouse bell for the Era of Civic Pride, and an eagle for the Age of Diversity, located across from Asheville's Historic Black Business section on Eagle Street.
While on the Urban Trail, make sure to stop by the Grove Arcade when you check out, "Grove's Vision", a  sculpture on the corner of Page Ave and Battery Park Ave. This one-of-a-kind  glass etching showcases the original architectural plans for the Grove Arcade, which was never fully completed after the death of its namesake, E.W. Grove.
The Grove Arcade building was saved and restored by the City of Asheville and the Asheville community in the 1990s and is now home to over 30 locally-owned shops, businesses, and restaurants.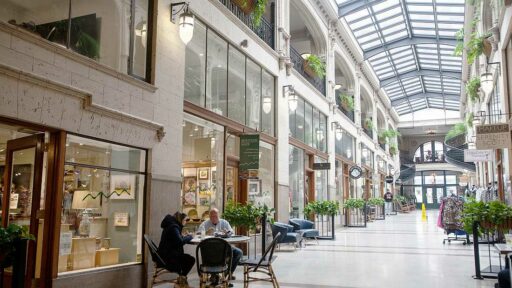 Don't miss out on the opportunity to visit the Mountain Made gallery inside the Grove Arcade. The gallery proudly exhibits the works of more than 150 Western North Carolina artists, craftspeople, and authors.
Come explore the legends and lore of Asheville, while enjoying the outdoors, the city's beautiful skyline, public sculptures, and downtown art galleries by following the Asheville Urban Trail. It's an excellent way to spend an afternoon or morning discovering the heart and soul of Asheville.