Stained Glass Spider Webs by Kathy Goldstein
|
Comments Off

on Stained Glass Spider Webs by Kathy Goldstein
Live Art Demo – Saturday, May 27, 2023 – 12 Noon til 3 PM
Creating a Splash of Stained Glass Color with  Kathy Goldstein
Join us for an engaging day with the creative and renowned Stained Glass Artist, Kathy Goldstein. She'll be gracing our gallery with her fascinating demonstration, a unique chance for you to see the magic of her creating a piece of stained glass artwork right in front of your eyes!
The Beauty of Kathy's Stained Glass Webs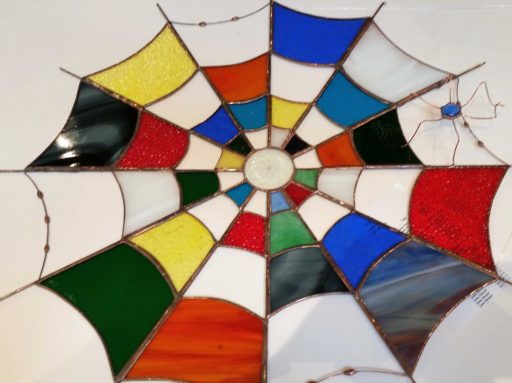 One can't deny the beauty and intricate detail of Kathy's stained glass spider webs. These unique creations are a delightful fusion of craftsmanship and innovation, turning ordinary spaces into spectacles of light and color.
Her corner webs, equipped with four points radiating from a single soldered join, are ideal for almost any home or office. When the sunlight pours through one of her webs, these pieces reflect a myriad of vibrant colors, adding a subtle lightshow to your surroundings.
Kathy's works range from clear textured to clear iridescent, to beautifully colored pieces. At times, she even combines all three types of glass into a single piece.
Her creations come in various shapes and sizes – corners, small webs, to large 12-point webs that span over 24 inches. Each piece, regardless of size or shape, is handcrafted with meticulous attention to detail, along with love and passion.
The Buzz Around Kathy's Creations
Our gallery visitors are frequently in awe of Kathy's work every time we display a piece. It's not uncommon to see visitors pause outside the our front windows, then come inside, and marvel at these whimsical stained glass creations.
One interesting feature that catches the eye is the little 6-legged "Happy House" spider delicately perched amidst the web strands. Kathy often shares that these spiders, though they're missing two legs due to a tough life, are symbols of good luck and prosperity for office, household or wherever they reside!
Dive into the World of Stained Glass with Kathy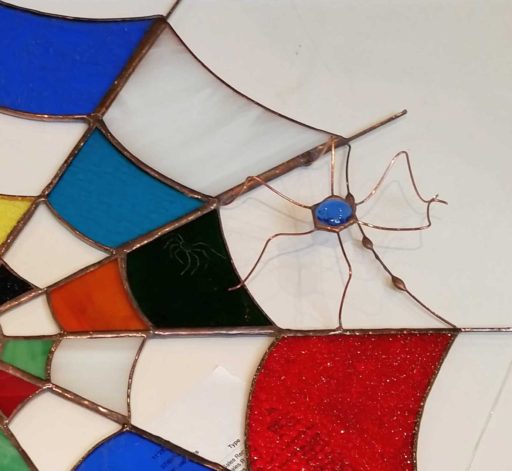 Kathy's stained glass demonstration, will make your Memorial Day weekend unforgettable. This live demonstration is an opportunity to witness her creative process and to engage with the artist behind the masterpiece. Each web is made with love and.
So, mark your calendars, and join us on Saturday, May 27th, for a spectacular artistic experience. Come ready to be inspired by Kathy Goldstein's stained glass artistry. Let's illuminate this Memorial Day weekend with creativity and color.
About Stained  Artist Kathy Goldstein
Born in London, and then raised in New York City, Kathy Goldstein found her passion when she began to study Art.  In her diverse career, she has worked for a major company designing booklets and film strips, going on later to design ads for a local newspaper.
In 1981, Kathy started her stained glass career and never looked back. She moved to Hendersonville, NC in 1990 and continued to design her artwork, finding her inspiration in nature and specializing in spider webs, 3-D birds and flowers.
Her real love is best seen through her colorful spider webs, which have become some of her most popular pieces. Her art is enjoyed by those who love watching the sunlight reflecting through her webs from a window.
Kathy has demonstrated her stained glass techniques on local TV as well as here at Mountain Made.
Hopefully ,Kathy's artwork will inspire you to consider a colorful web or two at home or come by Mountain Made Gallery to check out her work for yourself.
….
Kathy Goldstein at one of her live art demos at Mountain Made