Painted Rock Art by Phyllis Alden
|
Comments Off

on Painted Rock Art by Phyllis Alden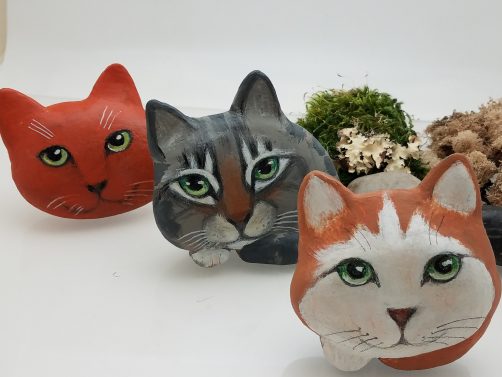 The art of painting on rocks is thousands of years old. Almost every culture has some form of cave painting, or rock art.
Phyllis Alden is a local Asheville artist, who has taken this wonderful art form and used it to turn plain old river rocks into whimsical and yet realistic cats and dogs.
….
….
She said she first tried her hand at painting rocks many years ago, after watching another artist paint over stones to create raccoons.
Phyllis said she was intrigued by their technique but was not interested in the raccoons so she painted her first cat and dog. And so over the years, she just kept doing them.
Now Mountain Made is proud to share with you, her "Raining Cats and Dogs" collection. See for yourself how Phyllis has taken some humble pebbles and turned them into some of Man and Woman's best friends.