Inside The Author's Den with Novelist Patricia S. Christy
|
Comments Off

on Inside The Author's Den with Novelist Patricia S. Christy

Pat Christy is definitely one of Mountain Made's more imaginative writers.
She has authored two installments in her series, The Last Scroll (The Education of Temple Fox, Book One and her latest release, The Return of the Ka and the Mending of the Su, Book Two).
Yet she considers herself to be a "bit of novice" despite the fact that she has written everything from plays to novels to poems and long, long letters to friends about her psychic/spiritual adventures.
As part of our continuing series, Inside the Artist's Studio, this month we will be pulling back the curtain and learning more about the story behind this writer's out of the ordinary creative process.
The Story Behind the Stories of Asheville Author Pat Christy
As a child, what did you want to do when you grew up?
Since I excelled at drawing I decided to become a visual artist at age 8. By age 9 I knew I would study at The Maryland Institute, College of Art (or MICA), which I did. I graduated with honors in 1975.
When did you first realize you wanted to be a writer?
It kind of snuck up on me like a pickpocket. I never really decided to become a writer, yet I was always writing long letters to friends about my psychic/spiritual adventures and realizations.
It wasn't until I was in my mid-thirties that I realized I had quite a cache' of letters and poems. By then I had also written a 2-Act play, a libretto for a musical, and was working on my first novel.
Even then I didn't realize I was a writer. It didn't hit me until after I had published my first book.
How long does it take you to write one of your books?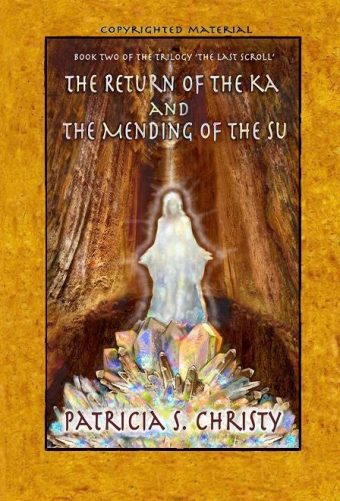 About 6 years. The 2 books I've written are pretty layered and complex.
What is your schedule like when you're working?
I work at my regular job 4 days a week. When I'm hell-bent-for-leather I devote my 3 days off to writing.
What would you say is your interesting quirk while working?
In addition to my desk being covered with scraps of scattered paper and foot high stacks of note pads, which like to slide off my desk from time to time into heaps, I have a tree trunk-size block of selenite under my desk.
I am surrounded by rocks and minerals, a lapis pyramid, 2 small onyx obelisks, 2 salt lamps, and a pair of deer antlers. That's to mitigated the effects of EMFs, and to help me focus while writing.
I also surround myself with inspirational paintings and prints, statuary from mostly Bali and India, an altar devoted to the success of my books, another altar to honor our dead pets, plus bookcases and display cases filled with more stones, my partner's antique dog collections, and, of course, books.
Where do you get your ideas or inspiration for your books from?
I most definitely get my inspiration from my fertile imagination, my own psychic/spiritual experiences, from interesting friends, and insiders, who have had unusual experiences, from metaphysical books, films, and other media sources, and directly from Spirit.
What do you like to do when you're not working on your books?
When I'm not at my regular job, or actually writing, I think about my characters and plots a lot, even at the expense of sleep. Let's just say I'm always doing research. Otherwise, I photograph nature and dream about creating affordable green architecture that's hurricane proof.
What was one of the most surprising things you learned about yourself while writing?
That if I got "out of the way" the characters would write the story themselves. After I read what I've written I realize I'm imaginative, intelligent, and inspirational to others…or, at least my characters are.
How many books, short stories, articles do you think you have written?
I've written dozens of biographical short stories that will be included in my memoir after I finish my spiritual fantasy trilogy, dozens of articles, two unpublished plays, tons of poems (a few published), and two published novels.
Which ones are your favorite?
Without a doubt, The Education of Temple Fox.
How do you decide on which ideas to develop?
The characters tell me what to do. I only take dictation.
Do you hear from fans? What kind of things do they say?
Yes, I hear from fans. Here's a few of their comments:
"The Education of Temple Fox contains all the elements of a terrific adventure novel, comparing favorably with works by Douglas Preston, Lincoln Child and Clive Cussler. Populated with memorable characters… Christy expertly weaves a sublime and fascinating plot. The pleasures of "Temple Fox" are not ephemeral, but like any good work of art, remain with the reader, encouraging thought and instilling wonder."
~ J. Michael Modlin
"With the broad brushstrokes of a master storyteller, Christy offers her much-awaited second book of the trilogy, The Last Scroll. A page-turner, just like Book One, Book Two weaves an epic story of a magical cast of characters… Truly a parable for our time, this book gives much to think about and use on your spiritual journey. Highly recommended." ~ Marina Raye/Recording Artist
"I could not put this book down…No housework got done while reading this book. So many life lessons imbedded within. So many interesting characters. What a wonderful imagination and talent this author has and I look forward to more of her books."
~ Carol A. Taylor
What do you think makes a good book?
Characters that feel real who the reader can sympathize with, plot twists that keeps you guessing, good grammar, good pacing, and a great editor who saves your ass in the end.