Inside the Artist's Studio with Asheville Artist Christine Hyde, Wildlife Painter
|
Comments Off

on Inside the Artist's Studio with Asheville Artist Christine Hyde, Wildlife Painter
"Everyone needs time to develop their dreams. Even an egg in the nest doesn't become a bird overnight." ~ Lois Ehlert
Bird Nest Art by Asheville Artist Christine Hyde
In this week's post, Mountain Made gallery is happy to share with you the unique artistic views of one of our newest additions to our gallery of local artists Christine Hyde.
Christine says her motto is "Amor Fati – Live your life as a Masterpiece. Love your fate. Live with an attitude of gratitude, seeing the beauty in all aspects of your life."
She continues, "We are all on a path of physical, emotional, intellectual, and spiritual evolution. When we step back and reflect where we have been and where we are on our journey, [you should] pay attention to the beautiful tapestry of your life. [Each life is] woven with the colorful threads of experience. Stay present. See, sense, listen to the wonderment of life around you."
….
As part of as part of our continuing series "Inside the Artist's Studio" , Christine has answered some of the most frequently asked questions people have about her and her artwork.
As a child, what did you want to do when you grew up?
A medical illustrator. According to an 2021 interview in SouthCarolinaYoyager.com Christine remembers, "Growing up in New England I was introduced to scrimshaw scrollwork and engravings are done on bone or ivory. I was fascinated with the detail of these small masterpieces.
When did you first realize you wanted to be an artist?
I was always a child with a vivid imagination and incredible expressive talent to draw, to paint, to create. I started drawing in the 3rd grade with cartoons. Then being gifted with a pen and ink set I looked for flat rocks or shells on which I drew out sailing ships or roses. Drawing came easy to me, a natural talent.
How long does it take you to create one of your pieces?
It depends on the medium I use. I continue to develop my painting skill with oils, and acrylics. So anyone of my pieces can take take anywhere from two hours to 2 weeks.
What is your schedule like when you're working on your art?
I will usually paint or draw four to eight hours a day.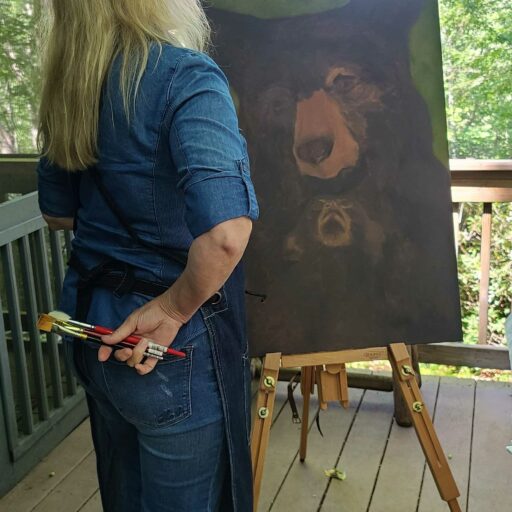 What would you say is your most interesting quirk while working?
I paint while holding 5 brushes pre-loaded with my various paints, so I can quickly blend colors and textures without using a traditional palette.
Where do you get your ideas or inspiration for your artwork?
I'm inspired by observing all of nature, especially animals and birds.
What do you like to do when you're not working on your art?
I immerse myself in the nature. I like spending time outdoors hiking, kayaking or fishing.
What was one of the most surprising things you learned in creating your artwork?
My ability to capture the expression of an animal.
How many pieces have you created?
About 100 pieces so far.
Which ones were your favorites?
My favorites are animals and birds.
How do you decide on which ideas to develop?
Whatever feels good to me. What sparks my soul.
Do you hear from your fans? What kinds of things do they say?
They love the detailed realism of my paintings and drawings.
What do you think makes good art?
When the artwork evokes an emotional response.
….
Here at Mountain Made, we are proud to announce that we currently have all 4 prints of Christine's "Home Sweet Home Nest" series. We invite you to come by our downtown gallery and check out her work for yourself >  Directions to the Mountain Made Art Gallery