Handcrafted Gifts: How to choose the perfect handcrafted gift?
|
Comments Off

on Handcrafted Gifts: How to choose the perfect handcrafted gift?
The best way to select handcrafted gifts?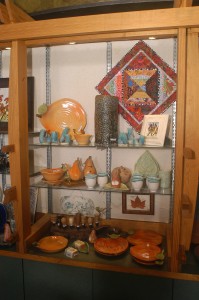 Over the years we have observed thousands of visitors in our gallery alternatively browse, prowl, hunt and gather…
Sometimes for hours…asking our staff as well as polling their friends and family for opinions. Often even asking strangers "What do you think?"
…Anything to help find just the right gift for their loved one or those special friends.
On the other hand, we had some gallery visitors immediately spot exactly what they want, "Here, wrap this up quick…before they come back!" Or we overhear something like this, "What a wonderful gift for Aunt Sue! I just know, she'll love it!"
Can You Pick the Right Handcrafted Gifts?
What is the difference between those who end scrambling every year at holiday time to find the right gift versus those who seem to pick the perfect handcrafted gifts with little or no effort?
We think that the perfect gift pickers have come to understand that ALL gifts (not just handcrafted ones) are not just simple exchanges of physical objects but are "gifts of communication" between two or more people.
All the works that our Asheville artists, musicians and writers create can be seen as "gifts of communication"…
Produced from their life experiences, creative spirit and dreams…
[easy-image-collage id=7077]
According to writer Tom O'Leary, "When you give a gift to someone, what you are actually doing is speaking to them."
[easy-image-collage id=7078]
So when you discover piece of art that "speaks to you", this is the type of gift item you should get in order to pass on that message to the person or persons who will be receiving it.
In turn, a perceptive gift receiver will naturally understand your message and feel what you're trying to communicate to them.
Of course this may seem a bit obvious, but somehow during the hustle and bustle of our holiday shopping, we often forget that our gifts are a powerful way to connect with those we love and care for.
All too often, we tend to forget what gift-giving is actually all about and what your carefully chosen gift item should convey…
…A sincere message from the heart.
As you can see, discovering how to choose that perfect handcrafted gift is not for the rushed or weary…so we invite you to come by early this holiday season to browse our gallery for your holiday gift ideas here at the Mountain Made art gallery.