Halloween Jack O Lanterns – Metal Yard Art by Edwin Knies
|
Comments Off

on Halloween Jack O Lanterns – Metal Yard Art by Edwin Knies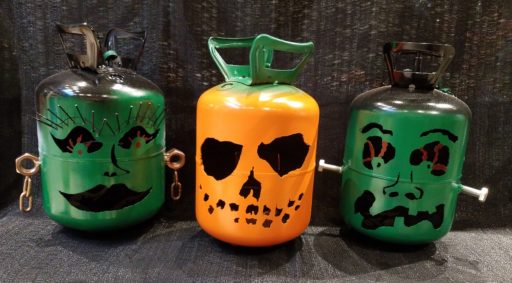 Metal Jack O Lanterns are Back…(and Almost Gone Already)!
Yes, we just got these wonderfully spooky Halloween lanterns just two weeks ago but we are already down to just a handful!
They are handcrafted from recycled metal Freon tanks (NOT propane). Once each tank is depressurized and cleaned Edwin draws a one-of-a-kind design for each face.
Then he carefully cuts out the eyes and mouth along with an little access hatch on the back.
Each lantern can be adapted for use with simple electric string lights, candles or just for fun hidden audio players to broadcast creepy Halloween sound effects!
We have the couple of the year, Mr. and Mrs. Frank N. Stein as well as the haunted Pumpkin-Head Brothers.
Since we have so few left, we invite you come by the gallery this weekend or call us today to check out this very limited selection of fun, Halloween lanterns. See for yourself…
Metal Yard Art – Halloween Jack O Lanterns