Flora Cloths
|
Comments Off

on Flora Cloths
Flora Cloths are an elegant way to spruce up any bare hardwood floor, tile flooring, cement or industrial floor surface. As one of the earliest forms of floor covering, floor cloths have a long been used a decorative replacement for slippery rugs on slick surfaces.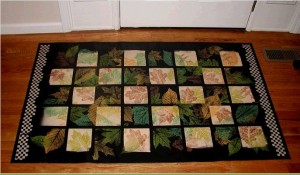 First made from painted sailing canvas and lubricated with linseed oil to preserve the pigments, old fashioned floor cloths were very durable, insect resistant, waterproof and easily cleaned – four things that make still popular with home owners today.
But like other commercial floor coverings, the Flora Cloths available through MOUNTAIN MADE are completely hand-painted using acyclic paints and sealers on , commercial grade vinyl.
These superb floor cloths are great way to cover and beautify almost any bare floor in your home, porch, sunroom or office. Not to mention, they are a superior way to add protection to moisture-prone floors in such places as kitchens, bath or basements areas.
Click to learn more about Flora Cloth artist Lynette Miller or feel free to contact Melinda Knies concerning any custom metalwork or requirements you might have for your home, office or business.