Cranberry Daiquiris & Hand-blown Glass Carafe Set
|
Comments Off

on Cranberry Daiquiris & Hand-blown Glass Carafe Set

 "Tipsy" Carafe &  Tumbler Set by Terri Sigler
A Great Gift Idea for the Holidays
Imagine… everyone seated around your coffee table. Happy, smiling and telling stories.
See how the light glows through the swirling colors of your carafe and tumblers.
As you pour drinks, you think that this is how the holidays should always be like….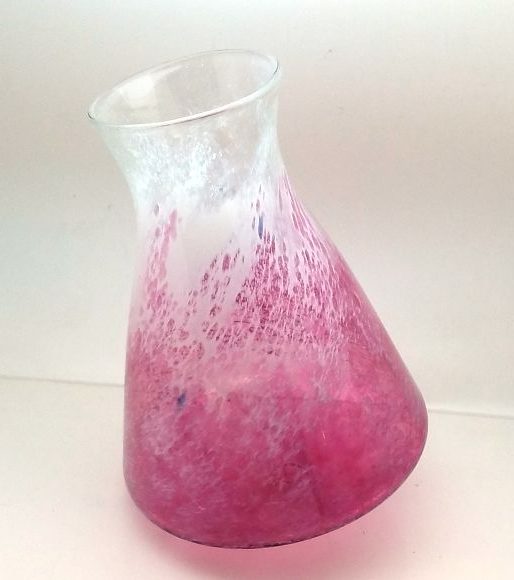 One of the most cherished times of the year is when your home is totally decked for the holidays and is filled with the laughter of friends and family as you gather together to share your happy memories.
So when glassblower Terri Sigler brought in this elegant carafe set, we knew that we had something very special.
Frequently, we find cocktail and other beverage recipes to place with Terri's glass-blown pieces.
But this time we immediately knew we had to come up with a delicious pitcher cocktail recipe both suit for these fabulous pieces AND the holiday season.
The holidays are also the time when most Americans feast on their favorite comfort foods.
And here at Mountain Made, we admit that one of our favorites is cranberry jelly. Yes, the stuff you buy in a can at grocery store.
We love it because of its:
Light, tart taste, a wonderful counterpoint to savory foods,
The feelings of nostalgia, as we remember other happy holidays
And yes, even its infamous ribbed, gelatin-like consistency
So we decided find a recipe that blends the holidays along with the vibrant swirls of Terri's elegant tilting glass carafe and companion "tipsy tumblers" with one of favorite comfort foods.
And yes we found one!
CRANBERRY DAIQUIRIS
1 (8oz) can of cranberry jelly
1 tablespoon sweeten lime juice
3 tablespoons liquid daiquiri mix
1/2 cup plus 2 tablespoons light rum
Combine all ingredients in container of an electric blender; blend well. All crushed ice to fill the blender; the blend again. Yield: 3.5 cups. Can be easily doubled or tripled as needed.
For Non-Alcoholic Mocktails: Substitute sparkling water or club soda for the rum.