Ceramic Pocket Planters – Unique Pottery Wall Vases
|
Comments Off

on Ceramic Pocket Planters – Unique Pottery Wall Vases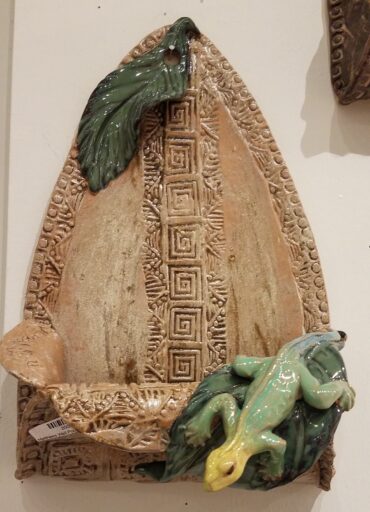 Pottery pocket planters by master ceramic artist Tamara Matthews
Tamara creates handcrafts each of her ceramic pieces. Her artwork is primarily used for home decor and architectural accents.
She says, " Nature has always been, and continues to be a source of inspiration for my work. Each of my [pieces] are hand sculpted and invites you to run your fingers over the textures. I hope you enjoy them."
Her pocket planters can give any home or office a unique look of rustic elegance. Each wall vase measures approximately 7 1/2" x 9 1/2" with a 5 1/2 deep pocket. Price: $105.00 (doesn't include shipping).
Perfect for smaller sized plants such as succulents or air plants. Also a great gift idea for those who love dried flower arrangements.
Only 3 in Stock! We invite you to come by soon (Directions to Mountain Made) or call us at 828-350-3507 .
Mountain Made Gallery: One-of-a-kind handmade items you can't find anywhere else.