Carved [Sgraffitto] Dogwood Pottery – by Lin Barber
|
Comments Off

on Carved [Sgraffitto] Dogwood Pottery – by Lin Barber
June's Inside the Artist's Studio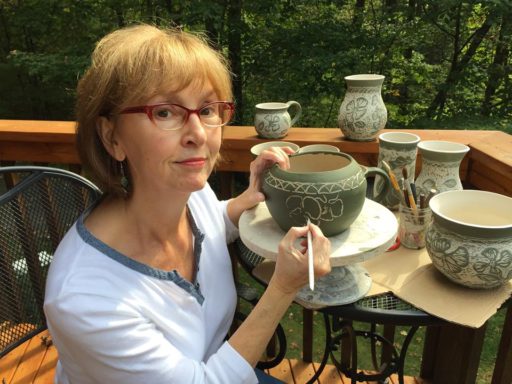 Carved Pottery – by Lin Barber
"The key to understanding any people is in its art…"
― Louis L'Amour, Education of a Wandering Man
Just by looking at the wonderful technique and subject matter of Lin Barber's work, you can see that she has great love for the people and places of Western North Carolina.
Her functional yet decorative carved stoneware pottery reflects the nature of our mountains.
So in this week's post, Mountain Made is happy to share some of Lin's thoughts, insights and artistic viewpoints as part of our continuing series "Inside the Artist's Studio."
….
As a child, what did you want to do when you grew up?
A ballerina, oh well ????!
When did you first realize you wanted to be an artist?
I've always had a strong desire to make things starting with mud pies when I was a kid.
I learned to sew doll clothes when I was 5, always loved to cook, and always loved to make crafty things. My mother and aunts did too so I had lots of support.
I've always been fascinated with the art in nature. I started drawing birds when I was 7 or 8, then started focusing on plants.
I took a ceramics class in college as an elective and fell in love with it. I took all the ceramics classes offered as well as other drawing and painting classes.
I started teaching a hand building class to children and found out I love to teach.
I've now retired from being a primary school teacher and can spend more time on ceramics.
How long does it take you to create one of your pieces?
There are several steps to finishing a piece of pottery: building, trimming, firing, and glazing.
Throwing a pot varies with what is being made, from between 10 minutes to an hour.
Sgraffitto pieces require carving, which can take a few hours in addition to the throwing time.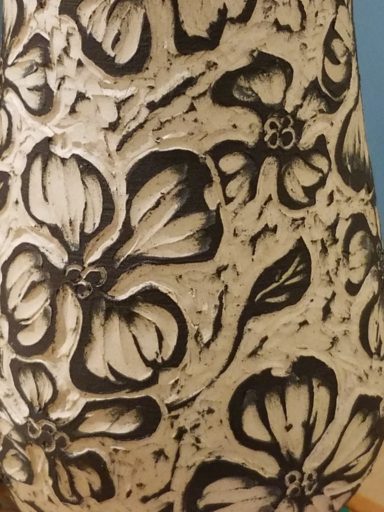 What is your schedule like when you're working?
I love to start throwing right after breakfast and will work until around 2:00 for a late lunch. I may continue with other aspects of ceramics after lunch to finish pots. I don't work every day.
What would you say is your interesting quirk while working?
The name of my business is Dogwood Pottery after the Legend of the Dogwood. I pray over my pots, that they will bring joy to the owner.
Where do you get your ideas or inspiration for your artwork?
I don't think of myself as a very abstract artist and generally take my inspiration from nature.
I look outside my shop and think about the symmetry in trees, leaves, and plants but also the asymmetry, the crooked and curved lines in branches.
I also look at my pots as I'm making them and think about how they would feel to hold them in your hands.
What do you like to do when you're not working on your art?
I love cooking, and enjoy walking and travel.
What was one of the most surprising things you learned about yourself while making art?
I'm always surprised by the difference in the way a piece of sgraffitto pottery looks from my initial flat drawing to the finished textured carving.
How many art pieces do you think you have created?
I could only work in clay during the summers when I was teaching but had high summer production.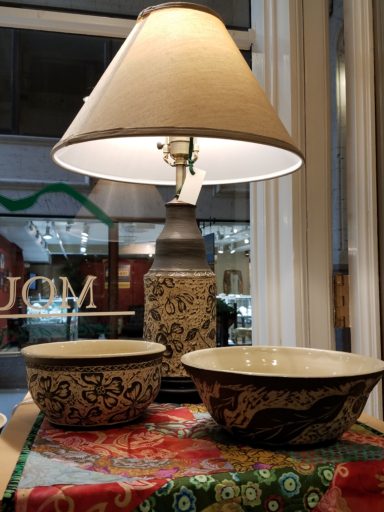 I've been retired from teaching for 5 years and have started my business during that time. I make pottery all year now.
How do you estimate the amount of functional pottery a potter makes?
It's a Lot of mugs, bowls, vases, and plates over 45 years!
Which ones were your favorites?
I love the sgraffitto pieces, especially the dogwood pieces.
I love the movement in the blossoms and the texture in the carving. I've also made a series of glazed vases shaped like calla lilies, bottom glazed green with a white top, that I particularly enjoyed.
How do you decide on which ideas to develop?
Now that I have a business, I look at my inventory and see what is lacking.
But I allow myself plenty of time to just experiment on different household items like salt cellars, butter dishes, and toothbrush holders. I also like to distort the clay surface for different effects.
Do you hear from your fans? What kinds of things do they say?
Sometimes I do hear from people that enjoy my work. They say my carving is realistic, the dogwood blossoms and oak leaves are amazing.
They like the texture of the sgraffitto (carved pottery) and enjoy the feel of the carving. I'm glad to hear my work makes them happy and gives them joy.
They remark about the look of mountains in my glazed pots and that our local environment is reflected in my art. They enjoy making gifts of my pottery and want one more for themselves.
What do you think makes good art?
I think good art is going to create a feeling in the viewer. There are elements like balance and perspective that invoke a response. A well designed composition can create a variety of feelings or moods.
Interested in Lin's work? Then we invite you to come by Mountain Made and see it for yourself > Mountain Made, a downtown Asheville Art Gallery.