Best Local Cookbooks for Summertime Suppers & Snacks
|
Comments Off

on Best Local Cookbooks for Summertime Suppers & Snacks

Western North Carolina Cookbooks
Come celebrate summer with these wonderful cookbooks about sun-kissed sides, tasty garden suppers and festive pies and desserts!
Honesty, who doesn't love pie in the summer?
Below are three great local cookbook authors: Jim Casada, Tipper Pressley and Barbara Swell. We invite come check out the sumptuous recipes they are serving up!
Celebrating Southern Appalachian Food: Recipes & Stories from Mountain Kitchens
by Jim Casada and Tipper Pressley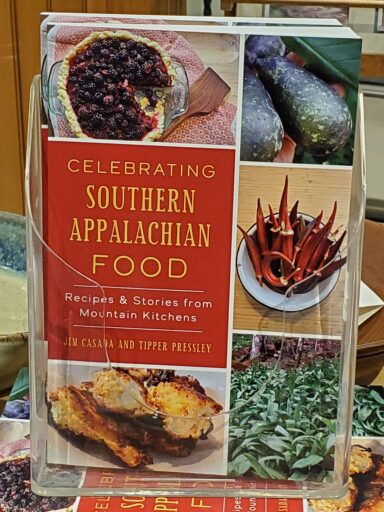 We invite you to sit down with this great cookbook and experience the exquisite flavors of high country cooking that are sure to enchant just about anyone's taste buds.
Western North Carolina, which is nestled in the heart of Southern Appalachia, a region renowned for its vibrant culinary heritage, lies a treasure trove of time-honored recipes, passed down through generations.
These culinary treasures offer a captivating glimpse into a mountain culture that has long been shaped by its geography, and delicious local foods.
With your copy of "Celebrating Southern Appalachian Food" in hand, you can embark on a delightful journey through our picturesque highlands, where tales of joyous celebrations, cherished Sunday suppers, and simple everyday meals come alive.
Within the pages of this book, you will find a series of captivating narratives and related recipes that embody a profound love for this unique locale and its distinctive culinary artistry.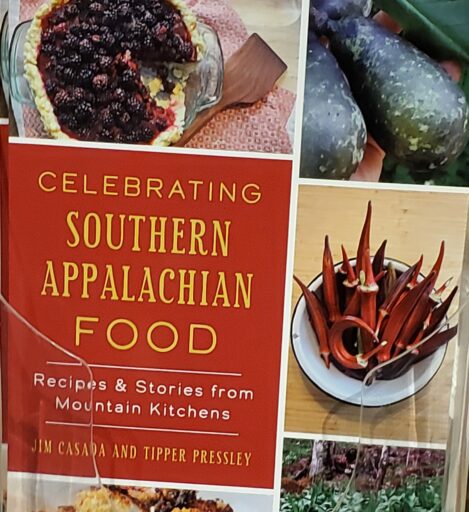 Written in the region's own vernacular, this unique cookbook beckons you to "pull up a chair and savor the nourishment."
Accomplished authors Jim Casada and Tipper Pressley, both native to the region, possess a wealth of expertise in sharing the gastronomic wonders of the Southern highlands.
"Jim Casada is a former university professor who now is a full-time freelance writer. He is the author or editor of dozens of books and has published thousands of articles in regional and national magazines. He writes a regular cooking column for Smoky Mountain Living magazine.
Tipper Pressley has been writing about all things Appalachia since 2008 on the popular blog Blind Pig and The Acorn . Her YouTube channel, Celebrating Appalachia, further celebrates and preserves Appalachian culture. Tipper often teaches Appalachian cooking classes at locales throughout the region."
….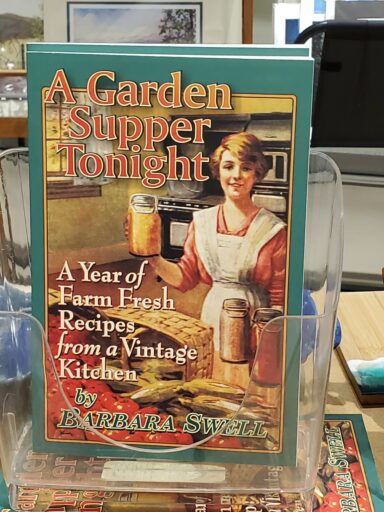 And of course we can never forget one of Western North Carolina's most popular cookbook authors Barbara Swell.
Each of Barbara's books is full of vintage images, humorous tales and of course loads of delicious recipes!
One of my favorites, is her "A Garden Supper Tonight: A year of farm-fresh recipes from a vintage kitchen"
"A Garden Supper Tonight" invites the reader to come take a seat on an cozy old front porch swing and dive into the joyous task of stringing together a bountiful harvest of pole beans for tonight's supper.
Many of us relish our memories of the summer suppers that our mothers, aunts or grandmothers made from the fresh veggies they picked directly from our own backyard.
Well Barbara has collected some of these cherished recipes from way back in 1895, when food was pure and honest—grown right in the family garden and lovingly prepared from scratch, every single day, for cherished family and friends.
Within the pages of "A Garden Supper Tonight," you'll uncover a huge collection of vintage, and affordable recipes that perfectly align with each season of the year.
Whether you're craving a refreshing rhubarb vinaigrette for a vibrant springtime salads in March, or tempted by delectable stuffed pan-fried squash blossoms in the warmth of July, this book has got you covered.
Prepare to indulge in recipes of mouthwatering maple roasted winter squash as the leaves turn in September, and savoring the cozy comfort of rum applesauce fruitcake in the chilly embrace of November.
Alongside these delightful recipes, you'll discover a wealth of old-timey food curiosities and timeless advice on all things home and gardening. From the irresistible Cherry Cordial and the irresistibly crunchy Crackly Cheese Sticks to the zesty Garlic Scape Pesto and the whimsical Dandelion Flower Salad or the hearty Manly-Man Salad!
Barbara's handpicked an array of culinary recipes are sure to delight both you and your family's taste buds.
And yes, we've got more mouthwatering cookbooks for you, including the "The Lost Art of Pie Making Made Easy", "Old-Time Farmhouse Cooking: Rural America Recipes & Farm Lore" and "The First American Cookie Lady".
We invite you come by the Mountain Made Gallery, the next time you are in downtown Asheville.