American Craft Week 2012 – October 5-14 – Daily Live Art Demonstrations
|
Comments Off

on American Craft Week 2012 – October 5-14 – Daily Live Art Demonstrations
Once again MOUNTAIN MADE, an Asheville art gallery is proud to be a sponsor of American Craft Week. We will be hosting a series of live glassblowing and hand sculpted pottery demonstrations during the entire 10-day celebration of American Craft Week.
So what exactly is American Craft Week?
American Craft Week is …"An opportunity to celebrate the wonders of American craft. Every day thousands of American artists share their vision and talent by producing amazing hand-made decorative and functional objects. And every day thousands of craft retailers share their love of these items by displaying, promoting and selling them. As one craft artist put it, "this is the creative economy!" [Source]
By joining us observing this week devoted to this newly revitalized "creative economy", you will be making showing your appreciation of the American Craft Movement; a love of traditional of handmade arts and crafts and a belief in the future locally made art.
American Craft Week is not just a movement to promote individual artists or small business retailers but is a growing trend of discerning people who want to enrich and beautify their homes and work spaces with locally produced and handcrafted artwork – pieces that reflect both unique artistic designs and quality American craftsmanship.
Not to mention it's cool to buy things labeled "Handmade in America"!
Live Daily Art Demonstrations during American Craft Week 2012
With those thoughts in mind we here at Mountain Made will host potter Jean Saake, 85+ years young, who will be displaying how she creates her fantastic ceramic birds, apples and hand sculpted fruits during daily presentations.
Jean Saake who has been married for 60+ years credits her husband Carl for both encouraging and supporting her lifelong love of art. Carl currently helps her by hand glazing all her pottery pieces.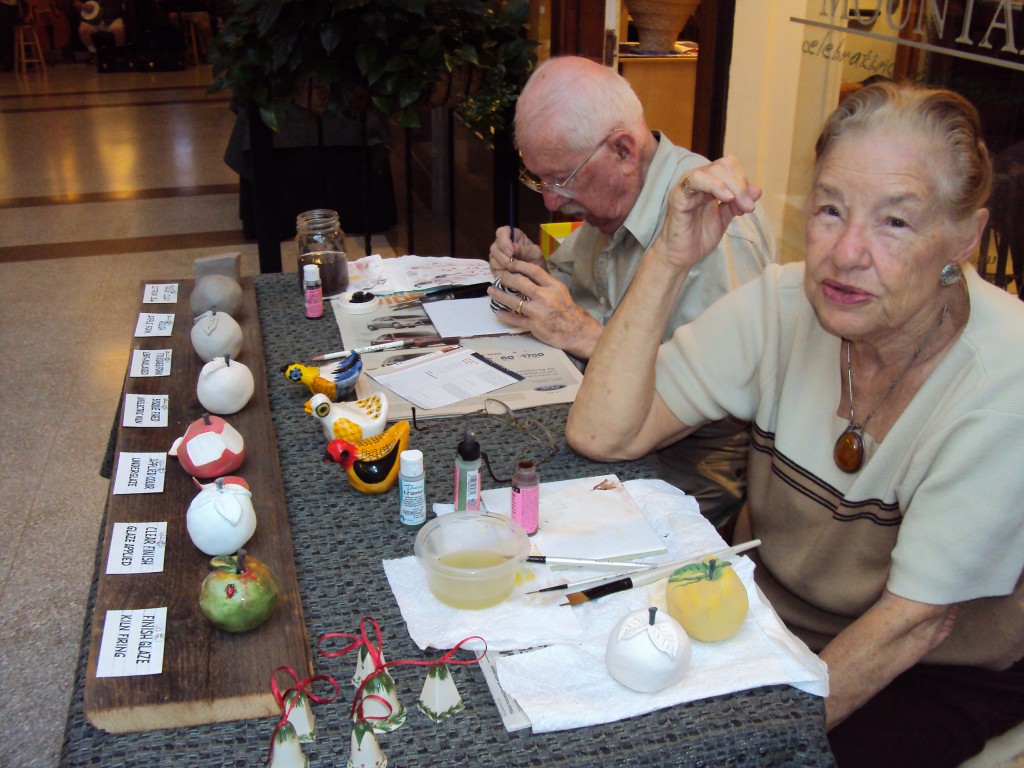 Jason Probstein, will also continue to showcase his scientific glassblowing techniques in live demos, not only during the entire American Craft Week event but will continue make his colorful glass holiday ornaments right up till Christmas.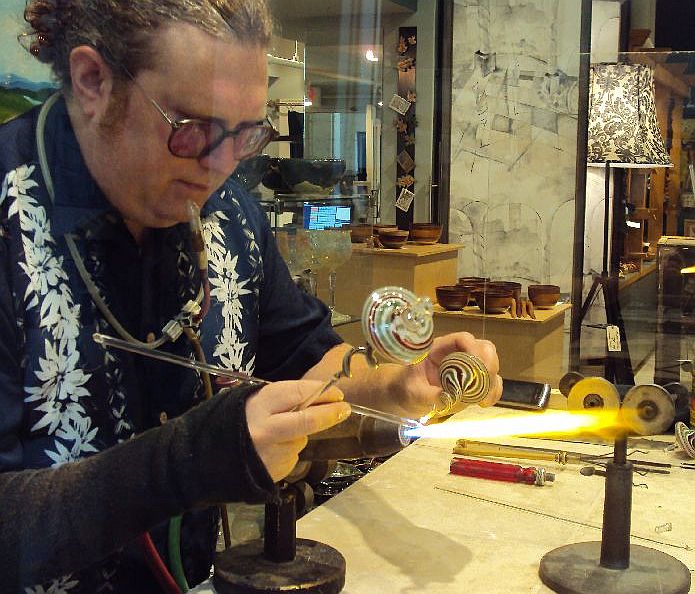 We invite you drop by our gallery and watch these two great artists during their live demos during this special 10-day event.
American Craft Week & Live Art Demo Schedule
October 5, 2012 – Downtown Art Walk & ACW Friday Kickoff:
5:00 – 8:00PM. Special gallery reception: live music along with light refreshments.
October 6 – 14, 2012 – Daily
Pottery Demo by the Jean & Carl Saake: 11:00AM – 3:00PM
Glassblowing Demo by Jason Probstein: 11:00AM – 4:00PM
Come join us in supporting the spirit of American craftsmanship and browse our growing selection of both traditional and contemporary mountain crafts and art produced right here in Western North Carolina. For directions, click here > Map to Mountain Made.