Abstract Quilts by Fiber Artist Julie Bagamary
|
Comments Off

on Abstract Quilts by Fiber Artist Julie Bagamary
* Live Art Demo by Julie Bagamary, Saturday 10/6/2018 *

Julie Bagamary is one of the newest artists here at the gallery. She creates very unique contemporary abstract quilts and wall art. She will be presenting a demonstration of her art Saturday from 11-4 PM here at Mountain Made gallery.
About Julie Bagamary
Julie began hand sewing around age 9 and received her first sewing machine at age 12 as a Christmas gift. Many years later and living in the mountains of Western Carolina, she continues her artistic endeavors.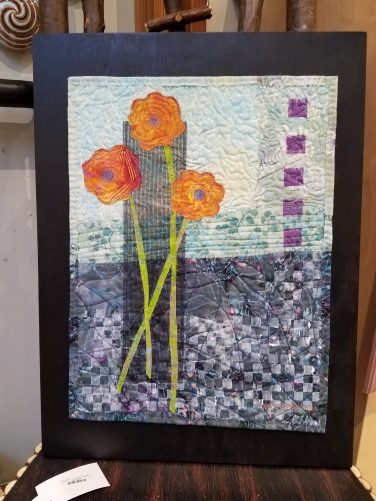 Many of Julie's pieces are inspired by the scenery of the mountains. Through the use of batik and hand dyed fabrics, quilting and mixed media techniques she creates one-of-a kind art pieces.
Julie says about her work, "Quilting is the backbone of my fiber art projects. Although the outward progress seems slow at times, patiently hand quilting is a discipline that I very much enjoy. It offers time to be still, pray and create all at once."