The Body at Wrapp's Mill: A Grist Mill Mystery by Asheville Author Celia Miles
|
Comments Off

on The Body at Wrapp's Mill: A Grist Mill Mystery by Asheville Author Celia Miles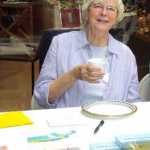 Asheville author Celia Miles, one of the most popular and profile Mountain Made authors has a new novel out, "The Body at Wrapp's Mill: A Grist Mill Mystery with Marcy Dehanne"  This is Celia's first mystery and we can't wait to finish our copy!
According to the back cover…
"Having quit her marriage and teaching career, Marcy Dehanne, a newly established Mill Consultant, arrives at remote Wrapp's Mill in western North Carolina. She expects to land her first employment: implementing the restoration of the small, deteriorating grist mill. She finds, instead, a half-buried body behind the water wheel.

The discovery of the corpse, unknown locally, complicates the possibility of restoring the mill, but with the help of a young female deputy—and a decided lack of enthusiasm from the sheriff's office, the owner , and the handsome uncle of the deputy—Marcy forges ahead, risking her life to solve the murder and to restore the mill.

A fan of mysteries and a devotee of grist mills, fifty-year-old Marcy realizes that reading about murder is much safer—if less interesting—than delving headlong into one."
Celia will be here at the gallery on Friday November 28, 2014 for a informal book signing for her new release. We invite you to come by and get your copy signed by Celia personally or talk with her about her series of novels set in Southern grist mils.
Directions to > Mountain Made, a Downtown Asheville Art Gallery