Sgraffito Pottery by Lin Barber
|
Comments Off

on Sgraffito Pottery by Lin Barber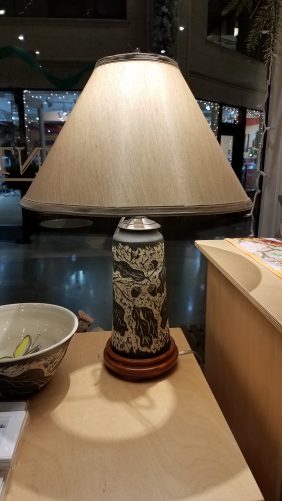 "Sgraffito Pottery: Bowls, Vases, even Lamps"
Lin Barber has been a potter for over 40 years. She creates functional stoneware pottery that is done the ancient Sgraffito style.
Sgraffito pottery (ceramics) – "Sgraffito (in Italian "to scratch") is a decorating technique produced by applying layers of color or colors (underglazes or colored slips) to leather hard pottery and then scratching off parts of the layer(s) to create contrasting images, patterns and texture underneath the overlying clay".
Her elegantly carved Sgraffito pottery pieces are unique and different. 
As you might guess, ceramic glazes have always been the most common form of pottery decoration.
After all a glaze not only add a beautiful sheen and wonderful colors to ceramic pieces but it also serves as form of protection – preventing liquids from penetrating the pottery piece's surface.
But another very old yet (overlooked) form of pottery decorating is carving or Sgraffito.
Sgraffito is a form of relief art. Chinese porcelain of the classic periods was frequently decorated using this method.
As you can see with Lin's work her dogwood flowers and oak leaves are carefully carved to make each flower and leaf project just a bit above the pottery background.
….
We invite you to come by and see these wonderful Sgraffito pottery pieces for yourself.