"Petal Paintings" & Floral Memories – Pressed Flower Art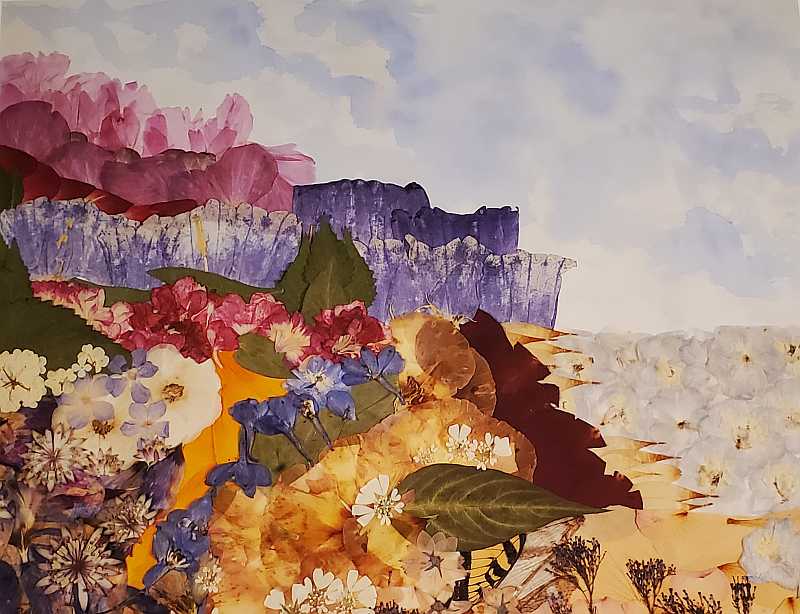 Pressed Flower Artwork & Prints by Susan McChesney
While Mountain Made has always had pressed flower jewelry , we have not had pressed flowers collages depicted as "landscapes" or "still-life" artwork before.
This is why are happy to showcase the original artwork, numbered prints and note cards of floral artist Susan McChesney. Susan says about her work, "
"Eyeing an unused flower press in my studio, I began pressing flower petals and leaves from a local flower farm. I found the pressed petals to be vibrant and alive visually, and began to collage them into landscapes…using the petals like strokes of a brush.
So many of the same elements come into play [like painting]: color, shape, texture, value, composition… but transformed by the fragility and variety presented by the natural materials.
Now, I not only marvel in wonder and awe at the physical elements I collage to represent the landscapes around me…This is my true HeartWork."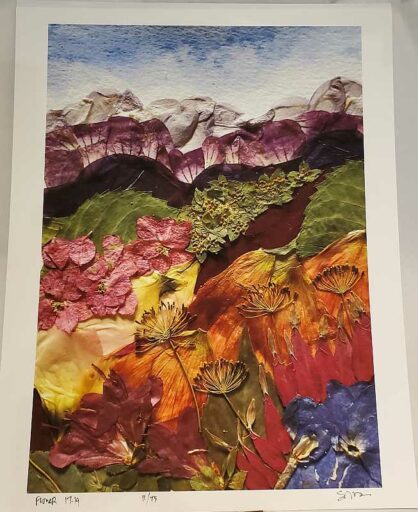 Susan goes on to say, "
"Oshibana, a 16th c. Japanese floral preservation tradition of pressed flower art, grappled then with preserving color in the flower petals, and the challenge continues today.
The contemporary techniques to remove oxygen, the fading culprit, include lamination and vacuum sealing, both of which I am currently using. So my work is sealed upon completion, and it should hold its color for years to come."
Preserving memories in pressed flowers is a time-honored way to keep tangible reminders of special moments and experiences. But by creating originals, prints and notecards, Susan allows all of us to share this beautiful preserved flower artform … without having to become an expert.
For example:
A pressed flower print can serve as a physical reminder of a significant event in your life, such as a wedding, a graduation, or a birthday. These beautiful, life-like prints can evoke feelings of love, joy and happiness whenever you look at one.
A pressed flower art original can show a deep appreciation for nature and all its beauty. This type of art piece can inspire people to pay more attention to their surroundings, notice the changes in the seasons, and develop a sense of true stewardship for the environment.
Pressed flower artworks are unique keepsakes: A pressed flower original landscape or still-life makes for one-of-a-kind keepsake that can be shared with your loved ones or used as thoughtful gifts for friends .