Pie Plates for Two by Cathy Chet
|
Comments Off

on Pie Plates for Two by Cathy Chet
Handcrafted Pottery Pie Plates for Two
"The differences between a tart, a pie and a quiche are a blur." ~ Yotam Ottolenghi
Okay, we admit it! We like pie better than we like cake (unless it's a cake for a birthday or a wedding.)
Which is why we are happy to announce that Cathy Chet has recently replenished our shelves with her pie for two plates – a 'must-have item' for any modern kitchen.
Cathy's classic pottery pie plates – right-sized for today's modern family – makes a great gift for that family member or friend who loves to bake but who doesn't want to see any "pie" pounds being packed because of too many leftovers.
Check out these Pie for Two recipes below…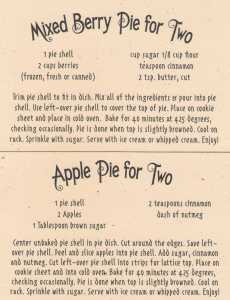 These ceramic pie baking dishes were especially designed to hold only 4 servings of pie, tart or your favorite quiche recipe. This way you can have all the gooey goodness of pie without making too much for just the one or two people in your household.
And in case you need a good reason to bake a pie, international Pi Day (the math symbol that represents the ratio of the circumference of a circle to its diameter ) is on March 14th.
So if you want to check out the circumference of one of Cathy's plates, we invite you drop by the gallery.
We have several of these elegantly handcrafted pie plates in stock – come by while we still have them!