Gilded "Medieval-Style" Angel Paintings by Mimi von Litolff
|
Comments Off

on Gilded "Medieval-Style" Angel Paintings by Mimi von Litolff

Mimi von Litolff's Fine Art Gilded Angel Series [2022]
Mimi von Litolff has been an award-winning Gallery Artist for the past sixteen years. Her work has appeared in collections in New York, Palm Beach, Atlanta, Albuquerque, Santa Fee, Taos, Houston, Naples, and Sanibel, Florida.
For two years running her series of "Medieval style" angels received top honors in "God in The Arts", Taos, NM, Peoples Choice, 1995 and First Runner Up, 1996.
We here at Mountain Made are very happy that she has chosen us to display her work now that she is living and working in the Asheville area.
This Atlanta native had her first art lesson at age five accompanying her mother, a painter, to art lessons at Atlanta's High Museum of Art. By the age of eight, she was painting in oils and taking lessons in painting and pottery.
She continued her studies at the Callenwald Art Institute, Abernathy Art Center, apprenticed with Caroline Guillia and studied privately with John Berry, among others.
After moving to Taos, NM, in 1991, her focus changed to painting. Inspired by the unusual surroundings and spiritual atmosphere, she started her series of angels.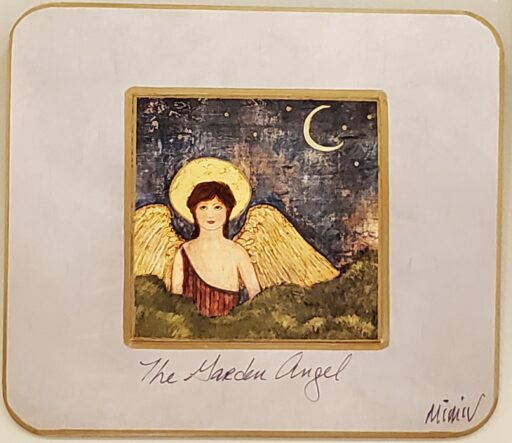 To get her luminous effects, she incorporates real gilding with copper, aluminum, silver and/or 23 K gold leaf; techniques learned during her apprenticeship with Caroline Guillia, one of the foremost restorers of fine murals and antiques in America at the famous Shedd-Manning in Atlanta.
Mimi found restoring ancient Chinese, Italian and French screens and furniture gave her the background and technical expertise to go forward in creating her own style using these Old World techniques.
She relies on many different techniques to achieve her gilded effects which cannot be duplicated with paint alone. Her artwork incorporates painting, sealing, sizing, leafing, glazing, sealing, and painting any area that is in gold or silver.
While this is very labor intensive, she feels that she can not get the quality she is seeking without using the "real thing."
Mimi says about her work,
"I have always been fascinated with art of all mediums. Growing up with an art teacher and "philosopher" trial attorney for parent; I find it humorous that when I write, I want to paint pictures with words. And when I am working in the visual arts, I want to express concepts with forms and colors.
My painting is a journalizing process: autobiographical and intuitive at the same time. It is a manifestation of my inner being in an outer form – expressed almost subconsciously.  At times condensing complex spiritual concepts into a simple couplet or visual representation.  The inspiration of each painting has spiritual roots expressing current themes in my life. Once I understand the key, I paint through my heart."
[Click to enlarge image]
The next time you are in downtown Asheville, we invite you to come by and view Mimi's elegant angel series for yourself > Directions to Mountain Made Gallery