Inside the Artist Studio – Glass Beads by Linda Bellino
|
Comments Off

on Inside the Artist Studio – Glass Beads by Linda Bellino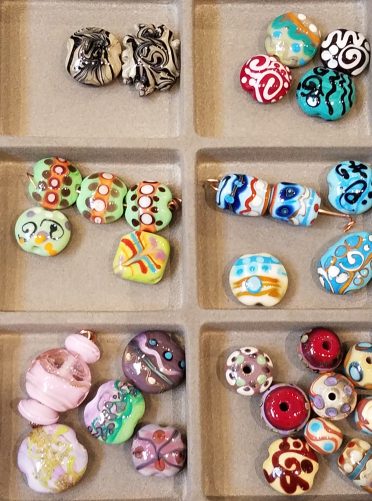 Handcrafted Lampwork Beads by Linda Bellino
"What you call passion is not a spiritual force, but friction between the soul and the outside world." ~ Hermann Hesse
….
Local glass bead-maker and fiber artist, Linda Bellino creates wonderful  jewelry pieces. Linda is mostly self-taught even though her introduction to the arts began in her family.
Since then, she has become well known for imaginative lampwork beads that are featured in her eye-catching line of bracelets, earrings, and necklaces.
Her glass lampwork beads are made from soda lime glass  or soft glass rods and are annealed in a computer controlled kiln.
Linda also creates whimsical fiber art frogs and lizards.  She started working and selling her artwork in the 80's and has naturally expanded since then and continues to bring joy and smiles to her customers.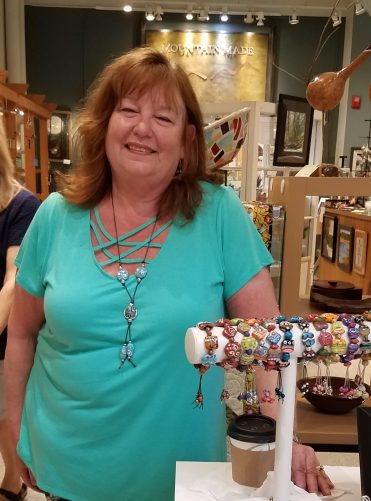 This month, Mountain Made gallery is happy to share Linda's thoughts and unique artistic viewpoints on as part of our continuing series "Inside the Artist's Studio."
….
Inside the Artist's Studio with Linda Bellino
As a child, what did you want to do when you grew up?
I started to lean towards hair-styling at 11 years of age. It is still my big deal since it is my full-time job! Bead-making and my fabric art are my sideline or hobby.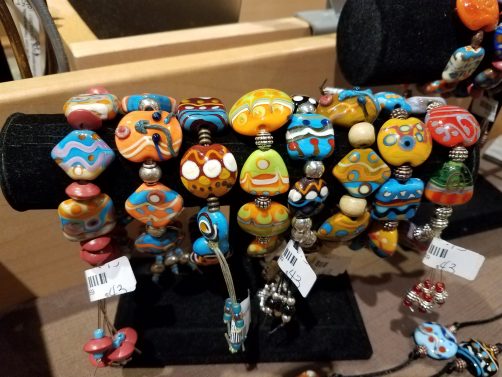 ….
When did you first realize you wanted to be an artist?
I didn't think I ever really considered myself to be an "artist" until recently. However, I have always created something. I have do work in photography, painting and watercolors, garments and wearable art pins.
I have made character dolls as well as my fiber art "critters". And of course I have done my share of refinishing and painting furniture.
But I didn't start making glass beads until I took a weekend class on lampworking with my husband Mike. That was over 10 years ago.
….
….
How long does it take you to create one of your pieces?
From as little as 30-45 minutes to weeks! It all depends.
….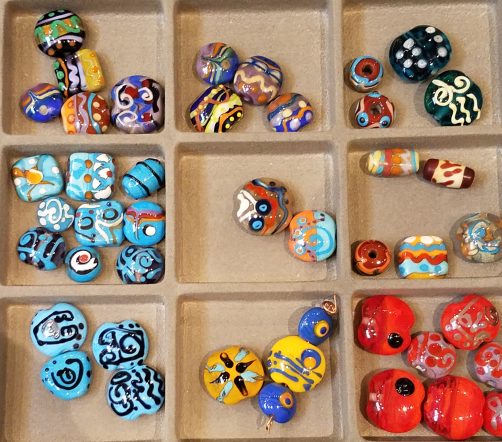 ….
What is your schedule like when you are working?
I work on my days-off from my regular job, allowing me to create my jewelry about 3 days a week. I usually put in 4-6 hours in my studio during those days.
What would you say is your interesting quirk while working?
I always have some kind of music playing in the background! I work overlooking a large stream and I love to sit and dream up my designs or just watch the birds out the window …. although I have learned to be very careful of the flame from my torch!
Where do you get your ideas or inspiration for your artwork?
I use nature as an inspiration and color! Color is always my main starting point. I love bold, bright colors and as well as southwest patterns and designs.
What do you like to do when you are not working on your art?
Mainly sitting on our front porch, overlooking the garden, just bird watching. Or I will take a nice long walk among the woods around the house.
What was one the most surprising things you learned while creating your art?
I discovered that I really like the fluid nature of glass in the flame. It goes very quickly from being a solid rod to a molten river of glass.
How many pieces do you think you have created?
Thousands of beads and probably a lot more of my other pieces. I have been making something creative every week for 40 years!
Which pieces are your favorites? 
I love to create my lady head beads. As you can see even in my glass beads, creating unique hairstyles is still very important to me!
….
….
How do you decide on which ideas to develop?
Everything I create comes pretty much from trial and error. I have a concept of what I want to "see" then I will work on it only to find out there are logistical problems I didn't think through. So it's back to the drawing board!
Do you hear from your fans? What kinds of things do they say?
Most people are really fascinated in seeing how a piece of glass can be turned into a bead or sculpture. Most the comments I get are "that is beautiful".
[Click the image below to watch a short video of Linda at work]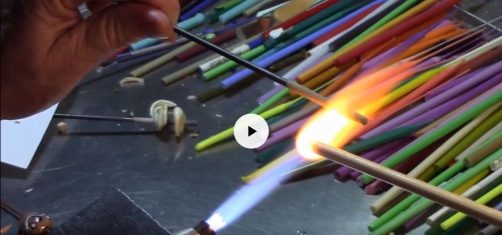 What do you think makes good art?
"Beauty is in the eye of the beholder"