Ceramic Indoor Nativity Scenes (Sets)
|
Comments Off

on Ceramic Indoor Nativity Scenes (Sets)
Ceramic Indoor Nativity Scene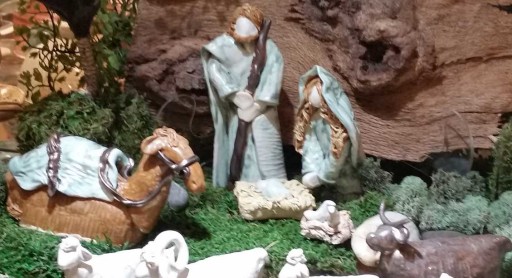 Indoor Nativity Sets (Christmas Manger Scenes)
by Sondra Hastings
These Ceramic Indoor Nativity Scene sets let you bring the magic and wonder of Christmas into your home, or office. The "starter" set includes just Mary, Joseph and the baby Jesus.
What is a nativity scene or set? 
According to Wikipedia,
"Nativity scenes exhibit figures representing the infant Jesus, his mother Mary, and Joseph. Characters from the nativity story such as shepherds and sheep, and angels are displayed near the manger in a barn (or cave). The setting is intended to accommodate farm animals, as described in the gospels of Luke.
A donkey and an ox are typically depicted in the scene. The Magi and camels belonging to the Magi described in the Matthew. Several cultures add other characters and objects that may be Biblical or not."
Sondra has been creating her traditional figurine-style Nativity sets for over 4 years now. Our indoor nativity sets are all individually handcrafted in clay, hand-glazed and fired. No two pieces are ever alike.
Sondra also has created a great a "barn yard" full of shepherds with sheep, donkeys, camels, kittens and peace doves. She has angels in all colors ready for display.
And yes, she also has a limited selection of Wise Men (the 3 Kings) bearing gifts of all kinds… including Arabian and Nordic horses!  Sondra  is a professional potter but is also a college-trained equestrian and riding instructor.
We are proud to announce that  Sondra has expanded her horizons by creating a playful miniature desktop Nativity Set. Check them out!
Nativity Sets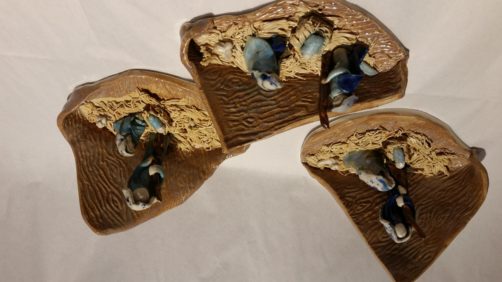 These Nativity sets make a wonderful addition for the die-hard Christmas set or Manger scene collector. Or just a touching gift set for anyone who loves the Christmas holiday season.
Visit Mountain Made  to check out Sondra's nativity scenes for yourself. Directions and map to our downtown Asheville art gallery.