"Hot Hands, Cool Glass" – Basketball Sculptures
…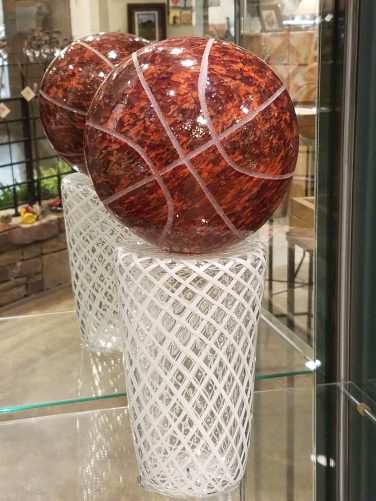 Hand Blown Glass Basketball Sculptures
By Asheville Artist Terri Sigler
Mountain Made is thrilled to present to you, one of the more interesting and unique glass sculptures we have ever had on display in the gallery.
Anyone who has seen or played enough basketball has, at one time or another, seen a player go through a "can't miss a shot" period – when a shooter is allegedly more likely to score if their previous shots were successful, i.e. having "hot hands".
The gallery's only traditional glassblower, Terri Sigler had created a wonderful collection of glass basketball sculptures named after those rare, "too good to be true" streaks of luck.
Sigler's "Hot Hands, Cool Glass" collection is on display just in time for the 2019 SoCon (Southern Conference Basketball) Championships.
A perfect gift for a basketball fan or a reward for any hardworking coach or a personal trophy for the basketball player who just never quits.
Sigler said her first blown glass basketball sculptures were indeed created for her kids' coaches as thank you gifts.
But once challenged, she couldn't stop herself and she kept working and experimenting to make a better glass basketball. Eventually she created what she calls "The Ball and Net", the signature piece in her "Hot Hands" collection.
Sigler knows the value of hard work and never giving up, since she spent three years building her own glassblowing equipment and studio adjacent to her home in North Asheville.
These high-energy works of art are perfect those true lovers of round ball.
So if you are near downtown Asheville during SoCon (or any time during March), we invite you come by the Mountain Made gallery and check out these fantastic glass sculptures for yourself.