Handcrafted Decorative Ceramic Fruit
|
Comments Off

on Handcrafted Decorative Ceramic Fruit
UPDATE: Jean & Carl will be here at the gallery on Saturday, September  16, 2017 for a live art demonstration of their work! We invite you to come by if you are downtown.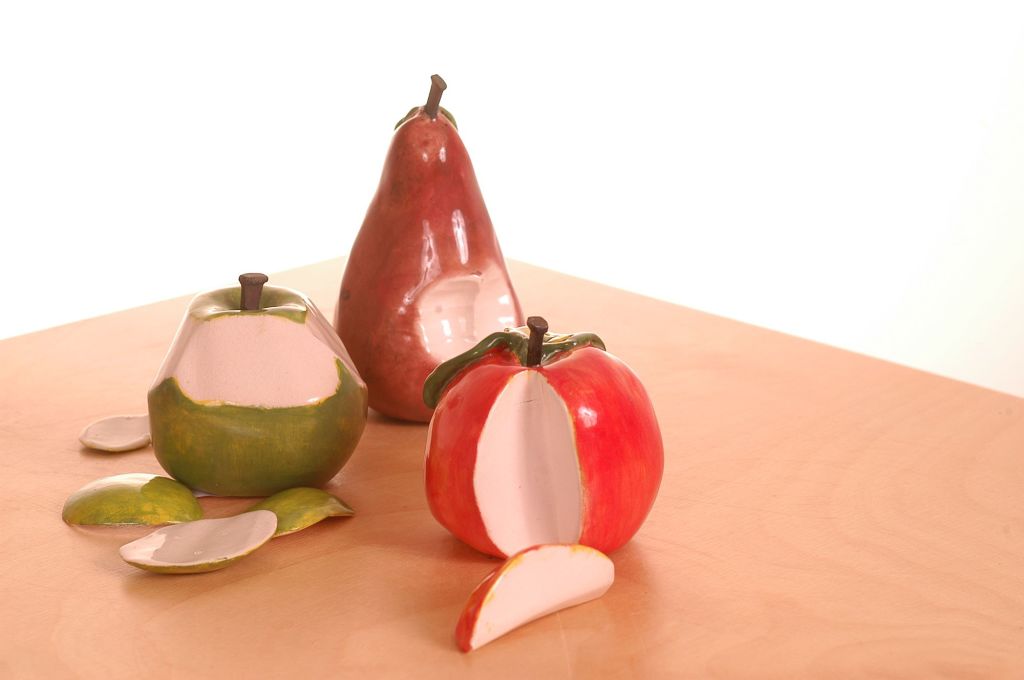 Decorative Ceramic Fruit
Apples and Pears by Jean & Carl Saake
Did you know that this little corner of the Blue Ridge Mountain is famous for being one of the South's the premier apple growing regions?
And along with large commercial operations there are many family-run fruit farms in and around Western North Carolina. In fact there are over 29 such small apple orchards within an hour's drive of Asheville.
Not to mention that many towns like Hendersonville NC also host  apple festivals and harvest fairs throughout the entire month of September.
But you couldn't make it to your favorite apple festival this year, then don't worry – you didn't miss out.
Mountain Made gallery is celebrating NC Apple Month in true Southern style, as two of our local artists are providing you with some wonderful ceramic fruit artwork from master artists Jean and Carl Saake.
Their whimsical collection of "locally produced" ceramic apples and pears are both delightful and unusual as some the apples and pears have been artfully "peeled", "bitten" or spotted "slight bruises".
You can add a playful theme to your decor by displaying some of these wonderful ceramic apples and pears in your home or office.
You can use a ceramic fruit as a whimsical paperweight, share their beauty with your dinner guests as part of a centerpiece or give them gifts to anyone who love of nature.
These lustrous fruit figurines are handcrafted, so they never lose their cool and crisp luster and shine.
We invite you to visit the Mountain Made art gallery inside the Grove Arcade in Downtown Asheville to view Jean and Carl's little "apple orchard" for yourself.