The Gift of Handcrafted Healing Candles by Jonna Rae Bartges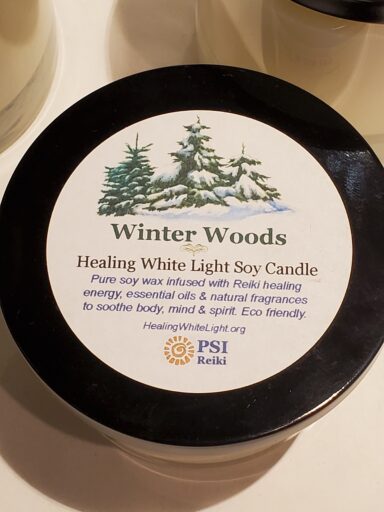 Handcrafted Healing Candles
One of our most popular artisans, Jonna Rae is well-known for her creative line of handcrafted scented candles.
Her Healing White Light Affirmation Candles are crafted by hand, right here in the Blue Ridge Mountain of North Carolina. They are made from 100% pure soy wax with an easy to light paper and cotton wick.
And each candle is infused with Reiki healing energy, essential oils and natural fragrances. They are poured into a food-grade glass container with a air tight lid and comes with an affirmation card. Each candle depending on size can burn anywhere from 20 to 60 hours.
Jonna Rae, says about her candles, "As a Reiki Master Teacher, I wanted to use Reiki healing energy in a way that made scents." And we can attest that her candles do have some wonderful fragrances!
….
"I came up with the idea of  melted, pure soy wax [candles], adding essential oils and phthalate-free natural fragrances. I finally created Healing White Light Affirmation Candles that soothe body, mind, emotions and spirit."
And studies have suggested that Reiki healing techniques may be helpful in:
reducing pain,
soothing anxiety
improving moods
Not to mention it is not uncommon for people to use aromatherapy in conjunction with Reiki treatments to enhance relaxation.
Jonna Rae's candles have uncommon fragrance blends such as
"Frankincense, Gold & Myrrh",
"Winter Woods",
"Amber Vanilla"
She goes on to say, "When I'm not making Healing White Light Affirmation Candles, I'm teaching classes in Reiki, working on my next writing project or exploring the winding mountain trails with friends and my dog Obi-Wan".
If you are in downtown Asheville, we invite you to come by the Mountain Made gallery and discover the "gift that make scents!"