Fun Bamboo Serving Platters by Caroline Greiner
|
Comments Off

on Fun Bamboo Serving Platters by Caroline Greiner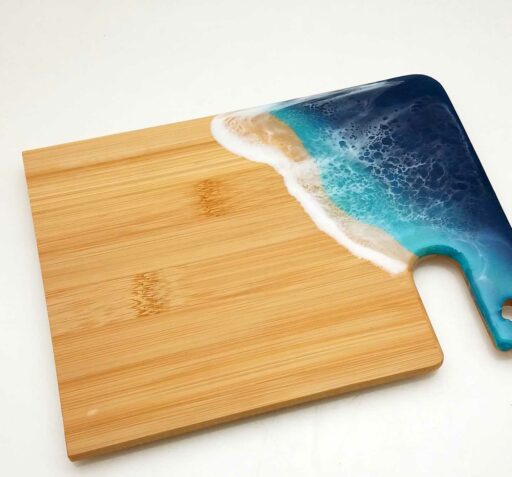 Bamboo Platters – Great Gift for the Foodies in Your Life
We want to give a big welcome to our newest Mountain Made artist, Caroline Greiner. We love her work because she has taken beautiful handcrafted bamboo serving platters and along with colorful resin and hand "painted" wonderful water-scapes on each one.
We think her platters look like miniature sand and surf scenes … just the kind of outdoor settings we all are waiting to indulge in this summer.
Check them out for yourself and let us know what you think. We invite you come by or contact us since we only have a very limited supply.
Caroline says, "I was born and raised in Montpellier, France. Influenced by my family a true passion for the arts and international business developed at a very young age. I have earned a business degree from my country of origin and came to the United State after graduating in 1991.
I arrived in the United States and obtained a beautician license – in 3 States – and have owned and operated my own salon for over 11 years. I have been married for 22 years, and am a mother of twins.
I have always been a nature lover and while living in Florida I have over the years collected lots of sea glass and designed my own jewelry line as well as beauty products that I used in my salon.
When we moved to Asheville, NC I was still creating jewelry for my clients but then I discovered a new passion for WOOD.
One day at church I discovered that fellow church trustee, Don Stucker was a wood worker and turner. I asked if he would teach me more about his craft. Soon his passion for woodworking became mine as well. I am still learning from him today.
When I see a piece of wood my creative thoughts go beyond the bark and I start designing the piece first in my mind. I work in my little woodshop studio (a.k.a. my garage). I love the beauty that comes out of each piece and how each different piece has its own personality.
I have found that even a piece from a firewood pile can be turn into a beautiful work of art. My friends now even send me pictures of trucks full of trees and ask me if they should high jack them so I can have the wood to create some more!"