Hand Painted Floor Cloths by Asheville Artist Lynette Miller
|
Comments Off

on Hand Painted Floor Cloths by Asheville Artist Lynette Miller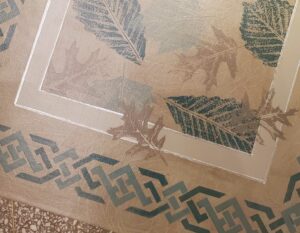 FloraCloths by Lynette Miller
According to Lynnette, a FloraCloth or floorcloth is "Essentially a painted rug and part of the American folk art tradition.  Early American floorcloths were made from used canvas sails, painted, varnished, and often covered the floors of the 'not-so-well-to-do' colonial homes. They are still quite popular in New England and have been around for centuries."
Lynette continues this wonderful art form with FloraCloths – her own unique twist on this age-old creation.

Her FloraCloths are
Durable – 5+ coats of a flexible polyurethane protect the painted surface; they are perfect for hardwood, tile or very flat-carpeted surfaces and will  stand up to years of use.
Easy to clean – sponge with mild soap and water
Allergen free – will not collect dust, pet hair or dander
Fade resistant – painted with exterior latex formulated to resist UV damage
Lynette Miller has taught photography at an upstate New York university before being lured to the mountains of North Carolina. Currently she is an instructor of Digital Photography
at Asheville-Buncombe Technical Community College.
"Although my professional background is in photography and printmaking, I've found that painting floorcloths is not so much a departure from the work and ideas I have been exploring over the past 20 years such as transparency, color, and layering, as it is functional application of those ideas."
Just check out this short video to see why her work is so popular here at the gallery…