Fine Woodwork
|
Comments Off

on Fine Woodwork
Most people never think about it – but one of the most obvious benefits of having custom built furnishings is that you don't have to settle for items that don't suit your lifestyle or fit into your home, just right.
Pre-designed pieces are just sitting around in some a showroom, waiting for you to try and figure out where they can belong.
But by having a master woodworker create a piece of furniture for you, you have total control over the type of wood used, the size and any decorative hardware or carvings.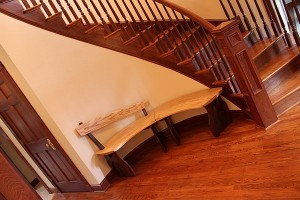 Not to mention a custom piece could be handed down through the years as a family heirloom or can be left to add substantial value to your current property.
Instead of feel dissatisfied for years to come, why not click to learn more about master woodworker Christopher Perryman or feel free to contact Melinda Knies concerning any custom artwork or building or remodeling requirements you might have for your home or office or place of business.