Decorating with Color – How to Add Color to a Room Using Fine Art
|
Comments Off

on Decorating with Color – How to Add Color to a Room Using Fine Art
If you are anything like me, you would love to have the time and the means to decorate your home using all the fine art and craft pieces, you would like. But the greatest lesson I have learned about decorating with fine art is that you don't have spend a fortune to to liven in a room when you use color correctly.

You can quickly and easily use colorful pieces of art (wall hangings, floor coverings or paintings) to brighten up any room at a reasonable cost. There are many ways for you to use colorful fine arts and crafts to add either subtle tints to rest the eye and the soul, or make a big, bold impact with more vibrant shades.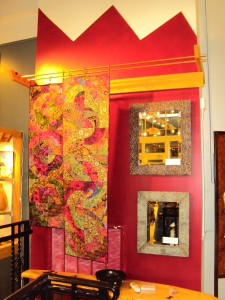 The one thing that you have been told that is wrong, is that the safest color to use when decorating is a white or a neutral like beige.
True, shades of white (from artic to ivory to cream) and beige (from taupe to tan to sand) are fairly easy to find coordinating or contrasting colors for.
But let's be honest here; white or beige walls can be very boring in a new apartment or home.
Plus you may have several good reasons as to why you just don't want to take the time or the expense to redecorate or repaint your home  more extensively.
A classic example of this are the homes of  career military personel. It was from a US Army officer's wife where I first learned how simple it was to liven up even the most drab and boring living quarters with some simple fine art objects and wall hangings.
This woman, who I'll call Patty, had been an Army wife for several decades. During that time, she had collected several nice pieces of American Western art during her husband's postings in Texas and Oklahoma.
So, once she arrived at a new post, she would set out to make her family's new quarters both comfortable and familiar. Painting the walls was a big no-no in most cases.
Patty would change the appearance of an ordinary army base apartment into a western style retreat by her skillful use of her treasured scenic paintings, bright American Indian blankets and rustic "cowboy" sculptures.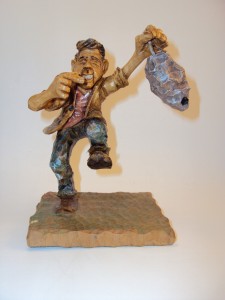 Her injection of a colorful American West world into a grey military setting not only made a really big difference in the looks of their small apartment and I am sure positively impacted their family as well.
The main art items you should look for when you want to add color to a room are wall art, floor coverings and home accessories.
Wall art includes textile wall hangings such as quilts or blankets, photographs, paintings or framed three dimensional works.  By adding a painting to a wall it not only places colorful touch where you need it but it also makes a statement about you.
Some people like to add a painting or hanging to a wall to create a visual focal point in a room. Others simple use the colors from within a particular piece to inspire them when it comes to buying furnishings or adding other home decorating touches.
The impact that an art piece will have may surprise you – the difference that a wonderful quilted hanging or painting can make to room can be amazing.
Another way to of adding color to a room is with a rug or floor covering. A beautiful floor covering such a handcrafted floor cloth such as the ones you can find here in Mountain Made can add sparkle and energy to almost any room, hallway or walkway.
Now that you understand how just a few colorful fine art pieces can reawaken even the most tired of living spaces, don't hesitate to visit us here at Mountain Made to view our latest collection of quilted wall hangings, paintings and floor cloths.