Ceramic Hanging Planters (Wall-mounted planter pots you'll love)
|
Comments Off

on Ceramic Hanging Planters (Wall-mounted planter pots you'll love)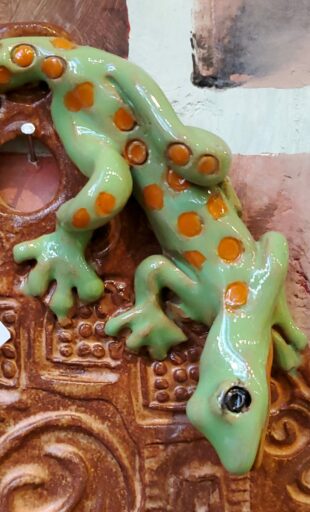 Handcrafted Ceramic Hanging Wall Planters
Indoor/Outdoor Flower Pots [Plant Pockets]
These wonderful ceramic wall planters or flower pockets (pots) are created by North Carolina potter Tamara Matthews. These fun wall planters are the ultimate in space-saving flower pots for just about any home, apartment, condo or home office.
Tamara says, "Nature has always been, and continues to be a source of inspiration for my work. Each of my pieces is handcrafted and invites you to run your fingers over the textures. I hope you enjoy them."
Her hand sculpted ceramic wall pockets or planters can be used as either indoor decor pieces or plant containers or outdoor flower pots and plant holders. Her pots can give a wall  or hallway a great look of causal or rustic elegance.
These unique planters are also great for growing kitchen herbs such as Dill, Basil, Chives, Thyme, Parsley, Oregano, Cilantro or any herb that doesn't require a huge pot to grow.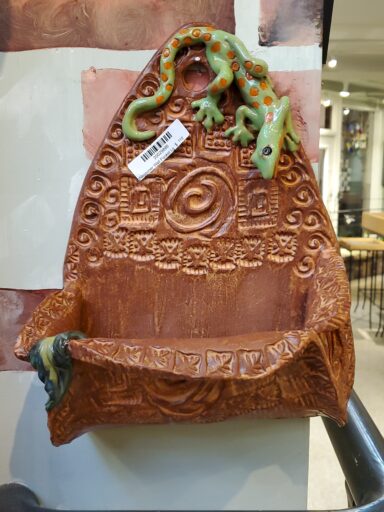 With a hanging planter you can easily cultivate your favorite herbs – all year long – on a sunny wall right next in your kitchen!
These plant pockets are also good for succulent plants, air plants, small cactus, and faux or artificial plants and dried flower arrangements.
About these Ceramic Hanging Planters
Handcrafted from high quality pottery clay, these sturdy planters have a durable glaze finish that will last long a time either inside or out.
As a unique wall decoration these planters are each hand sculpted and are not only great for small accent walls, bathrooms, bedrooms or narrow hallways, but also suitable as a set of two for larger wall spaces behind sofas, over doorways and office wall decor.
Each planter is lightweight and has a hole for simple and effortless mounting. They can be easily installed on almost any wall or vertical surface with the proper mounting hardware.
Every plant pocket is one-of-a-king with a rustic yet elegant design. Tamera's nature-inspired ceramics features whimsical "critters" with colorful finishes, which will add a wonderful decorative touch to any of your indoor/outdoor spaces.
…
Click to Enlarge Images Below:
We invite you to come by and check them out for yourself. Remember we only a few, so please call or come by for the best selection > Directions to Mountain Made, a downtown Asheville art gallery