Ceramic Planter Pockets (Wall-mounted Planters)

Uncommon Ceramic Wall-Mounted Planters
with Whimsical Critters
Discover the charm of these ceramic wallscape planters, also called plant pockets or wall flower pots, meticulously handcrafted by the renowned North Carolina ceramic artist, Tamara Waggoner.
These creatively designed planters make a beautiful yet space-efficient addition to any living space, whether it be a house, apartment, condo, or home office.
Tamara's artwork is deeply inspired by nature. Each piece she creates is unique and encourages you to touch and feel the various textures she uses.
Tamara's sculpted ceramic wall pockets serve a dual purpose; they can be used as interior decorative pieces for holding your mail or as functional plant containers.
They can even be mounted outdoors as flower pots or for faux or artificial plant holders. They have the potential to transform any wall or hallway into a charming display of casual elegance.
These planters are particularly suitable for growing cooking herbs such as chives, oregano, sage, thyme and rosemary. Basil, parsley, cilantro, fennel, dill, and lemon balm are also easy herbs to grow indoors from seed.
With these handcrafted hanging planters, you can conveniently grow your favorite herbs throughout the year in your own kitchen.
The plant pockets are also well-suited for succulents, air plants, small cacti, as well as and dried floral arrangements.
What are Ceramic Wall Planters (Plant Pockets)?
These planters are made from premium pottery clay called stoneware which gives them their robust nature. They are glazed for a durable finish, ensuring their longevity both indoors and outdoors.
As unique wall adornments, these planters are individually hand-sculpted and are ideal for small accent walls, bathrooms, bedrooms, or any narrow walkway. They also work well as a pair for larger wall spaces above sofas, over doorways, or as a functional office wall organizer.
Each planter is lightweight and comes with a hole for easy mounting. They can be effortlessly installed on almost any wall or vertical surface using the appropriate mounting hardware.
It's worth noting that the dimensions of Tamera's planters can vary, with an average depth of 3-5 inches and a width of approximately 8-9 inches.
Every plant pocket is a unique piece, showcasing a rustic yet sophisticated design. Tamara's ceramics draw inspiration from nature, featuring delightful "critters" with vibrant finishes, adding a decorative touch to any indoor or outdoor space.
Keep in mind that our stock is limited, so for the best selection, please drop by our gallery before it's too late.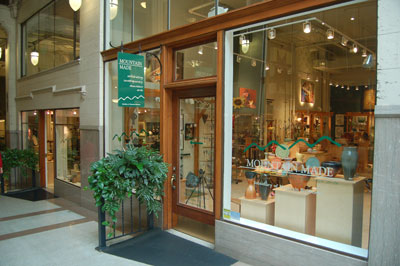 We encourage you to come by Mountain Made Gallery (in downtown Asheville NC) and see these beautiful creations for yourself > Directions to Mountain Made.