Asheville Ceramic Artist Sondra Hasting's Meditation Plates
|
Comments Off

on Asheville Ceramic Artist Sondra Hasting's Meditation Plates
UPDATE: Live Art Demo, by Sondra Hastings
Saturday, August 5, 2017 – 11:00AM to 4:00PM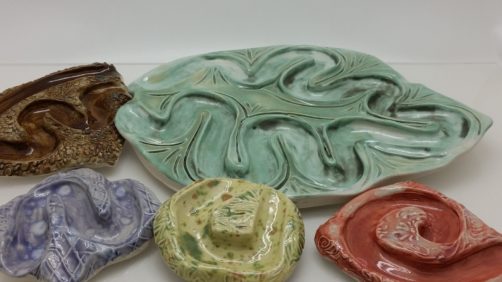 "Meditation is all about the pursuit of nothingness. It's like the ultimate rest. It's better than the best sleep you've ever had. It's a quieting of the mind. It sharpens everything, especially your appreciation of your surroundings. " ~ Hugh Jackman
….
Who knew an action movie star could be so eloquent? But as Sondra Hastings says, her hand-held mediation plates were inspired by both modern and ancient mediation techniques.
In ancient times, people would walk along a labyrinth, in hopes of reaching enlightenment or salvation.
People also thought of these mediation trails as being symbolic "pilgrimages", designed to open one's mind to new possibilities or to calm a restless spirit.
Sondra started hand molding her "Original Asheville Mediation Plates" about several years ago as way to ease her own mind and body during several tough life situations and difficult health issues.
….
Instead of meandering slowly along an outdoor pathway, Sondra's table-top Mediation Plates calm and relax by having you to close your eyes and use your fingertips to the "walking"!
People have used these popular plates for everything from simple desktop doodling "toy"; to a soothing concentration point for a misbehaving child; to a gentle way to transition from the hustle of the work day to a more centered frame of mind; or just as something to aid in the "pursuit of nothingness".
Take a look below at just a few of these wonderful meditation plates.