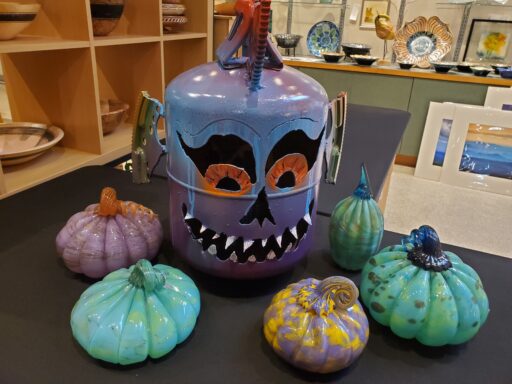 Is it time to get your "Halloween Boo" on?
Halloween is not just a day; it's a month-long experience! And what better symbol to represent this spooky season than the iconic pumpkin? As the leaves change and the air gets crisp, there's a palpable excitement in the air. And this year, the Grove Arcade is about to get a whole lot spookier!
Here at Mountain Made Gallery, we are ghoulishly excited invite you to grab your costumes EARLY and join us inside Grove Arcade on Saturday, October 7 from 12-4 pm for our family-friendly fall event!
Here's what you can expect:
Free Pumpkin Decorating Class: Unleash your creativity and design a pumpkin that stands out!
Entertainment: Be mesmerized by life-size puppets from the Street Creatures collective and sway to live music that sets the perfect Halloween mood.
Special Storefront Displays: Grove Arcade merchants, including Mountain Made Gallery, have curated special Halloween displays for you.
🔮 Fortune telling by Tânya "Pinky" Pineda from Hidden Palm Tattoo. Pinky will be using her own unique Crystal Skull to do foretell your future … right in front of Mountain Made.
✨ Local Art Exhibit: Don't miss Mountain Made Gallery's metal art and handcrafted glass "pumpkin patch" exhibit that promises to be a visual treat. We have both creepy metal Jack O Lanterns by Edwin Knies as well as handcrafted glass pumpkins by Terri Sigler, all ready for your parties this year.
We invite you come by and join us in the fun and frights!
Metal Halloween Art by Edwin Knies:
Great for Yards, Porches or Creepy Party Décor
Yes, we just got these wonderfully spooky Halloween lanterns just a week ago but we are already down to just a handful of the big guys and a limited selection of the Edwin's new "little" devils, ghosts, ghouls or pumpkins!
Edwin draws a one-of-a-kind design for each Jack O Lantern face, the he cuts, welds and attach various metal bolts, then hand paints each one to make every monster unique.
NOTE: these wonderful lanterns are handcrafted from upcycled metal tanks. Once each tank has been carefully depressurized and cleaned out by Edwin before he starts to work on them!
These metal lanterns make perfect seasonal gifts and way cool Halloween when you add mini LED "fairy" lights or flickering "flameless" candles!
…
Hand blown Glass Pumpkins by Terri Sigler
These elegant glass pumpkins are perfect for adding a touch of sophistication to your fall décor.
Did you know that farmers actually start planting seeds for pumpkins in May? Yes, this fabulous fruit takes a very LONG time to grow – from 75 to 100 days.
And they are picked quickly in Autumn because they stop developing at soon as there are any cold, frosty nights since they are native to Central America and Mexico.
But we're pretty sure, Terri made her glass pumpkins in less than 100 days, but they certainly look like she spent weeks creating them.
…
We invite you to dive into the world of pumpkins, art, and local Halloween magic. And remember, whether it's a metal lantern or a glass pumpkin, these pieces are more than just décor; they're a celebration of the season and the craftsmanship that brings them to life.
So, are you ready to immerse yourself in the Halloween spirit? Grab your costumes, gather your family and friends, and head over to Mountain Made, inside the Grove Arcade, this Saturday, October 7, 2023.