Whirligigs – whimsical wind sculptures by Van Stronach
|
Comments Off

on Whirligigs – whimsical wind sculptures by Van Stronach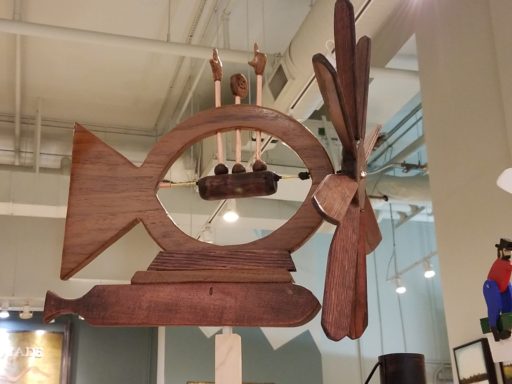 Whirligigs are wind-powered kinetic garden ornaments and are the descendants of weathervanes.
The origin of whirligigs is unknown. But since both farmers and sailors have used weathervanes since ancient times, these comic versions are thought to have been handcrafted by either group during downtimes.
Whirligigs are also called gee-haws, spinners, whirliJigs or whirlybirds.
Here in the South and in other rural regions the most commonly seen ones are atop the roofs of farm houses and barns.
Local Western North Carolina woodworker, Van Stronach has brought in three of his wonderful whimsical wind sculptures:
The Skier, an abstract piece that reminds us of a fish-shaped submarine and the Wood Chopper.
All of these pieces are handcrafted and suitable for mounting outdoors – whether you live in a farmhouse or in an urban condo.